The United States Mint on Monday started selling the fourth 2015-dated America the Beautiful Five Ounce Silver Bullion Coin. Bearing a design emblematic of Bombay Hook National Wildlife Refuge in Delaware, U.S. Mint authorized purchasers have already ordered 35,600 of the 3-inch, 99.9% pure silver bullion coins.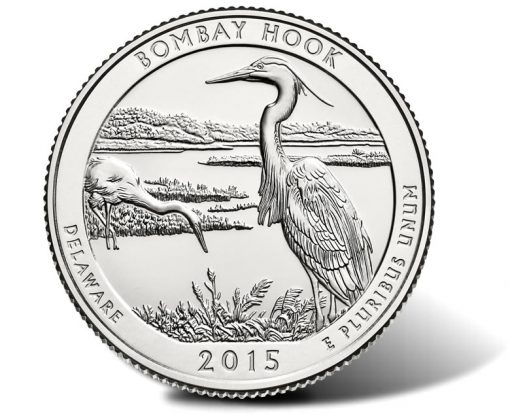 This year's three earlier designs sold out with sales of:
35,000 for the first 2015 coin depicting Homestead National Monument of America in Nebraska
42,000 for the second 2015 coin depicting Kisatchie National Forest in Louisiana
45,000 for the third 2015 coin depicting Blue Ridge Parkway in North Carolina
The Blue Ridge Parkway total is the highest level for any in the series since 2011.
Update: On Tuesday, Sept. 29, the U.S. Mint announced that the Bombay Hook bullion coin sold out. It also ended with sales of 45,000.
The U.S. Mint does not sell bullion America the Beautiful Five Ounce Silver Bullion Coins directly to the public but through a network of authorized purchasers who buy them in bulk at melt value, plus a premium of $9.75 per coin. The coins make their way to coin and precious metals dealers who are pre-selling them for around $105-$120 per coin, with discounts offered at higher quantities.
Later this week, on Wednesday, the U.S. Mint at catalog.usmint.gov will offer rolls and bags of Bombay Hook quarters in varied quantities of 40 coins to 120 coins and at prices ranging from $18.95 to $46.95.
Next week, on Thursday, the U.S. Mint will also start selling the collector 5-ounce version with an uncirculated finish and the Philadelphia Mint's 'P' mint mark. Its price is $149.95.
The quarters and 5-ounce silver coins share the same designs and inscriptions. The silver coins have an added edge inscription of .999 FINE SILVER 5.0 OUNCE.
The last 2015-dated America the Beautiful coins will feature Saratoga National Historical Park in New York. Expect them released by late November and early December.