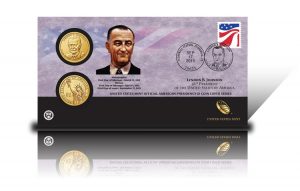 At noon EDT today, Sept. 17, the United States Mint began taking orders for a new coin cover that includes two circulating quality Lyndon B. Johnson Presidential dollars.
Priced at $19.95 each and limited to a mintage of 15,000, this latest collectible marks the 36th issue in the American Presidency $1 Coin Cover Series and the fourth and last one for 2015.
Each coin from the cover is a first-day production strike, with the dollar from Denver Mint made on April 13, and the dollar from the Philadelphia Mint struck on March 13, 2015.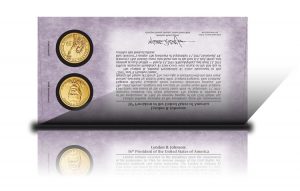 Both dollars are mounted on a protective display card. The front side of the card features a portrait of the president with a postmark of "Stonewall, TX, September 17, 2015," representing where Johnson was born and the day of the coin cover's release. On the back of the card is information about LBJ, the $1 coins, and the product itself.
The display card is placed inside an envelope that bears a Red, White, and Blue Forever® postage stamp.
Designs on LBJ Presidential $1 Coins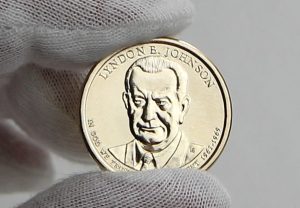 Designed and sculpted by Michael Gaudioso, obverses or "heads side" of the dollar offer a likeness of Johnson with surrounding inscriptions that read: LYNDON B. JOHNSON, IN GOD WE TRUST, 36th PRESIDENT and 1963-1969 for the years he served as commander-in-chief.
Presidential $1 Coins all share reverse or "tails side" designs bearing Don Everhart's rendition of the Statue of Liberty. Inscriptions around Lady Liberty include UNITED STATES OF AMERICA and $1.
Also common to dollar coins are inscriptions incused around their edges showing the year of issue, the 'P' or 'D' mint mark for the mint of origin, and E PLURIBUS UNUM.
Ordering
American Presidency $1 Coin Covers are available at the U.S. Mint's website page, located here. To place phone orders, call 1-800-USA-MINT (872-6468).
The three earlier 2015-dated covers commemorate John F. Kennedy, Dwight D. Eisenhower and Harry S. Truman. As of Sunday, Sept. 13, they have sales of 17,494; 13,023; and 14,258. The Kennedy $1 Coin Cover has a higher limit of 35,000 units, while the others are held at 15,000.