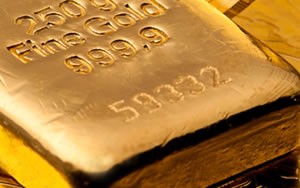 Precious metals turned lower Friday and most of them fell on the week. Gold marked its sixth loss in seven sessions, and its third straight weekly decline.
Gold for December delivery shed $6, or 0.5%, to settle at $1,103.30 an ounce on the Comex division of the New York Mercantile Exchange.
"People don't want to be positioned long gold going into the [next Fed] meeting, more than anything else," Reuters quoted Bill O'Neill, co-founder of commodities investment firm Logic Advisors in New Jersey. "The market remains a very low participation market from the big players. The hedge funds certainly are not looking to make major commitments in gold."
The yellow metal closed at a one-month low on Wednesday, and then bounced higher on Thursday to snap a five-session losing streak. As for the week, gold lost 1.6%. Prices fell 1.1% last week and 2.2% the week before that. They are off 6.8% since their final settlement in 2014 at $1,184.10 an ounce.
Looking ahead to next week, Kitco News offers the following forecasts via their Wall Street vs. Main Street survey:
"This week, 195 people voted in the online gold survey. Among the participants, 74 people, or 38%, were bullish on gold next week; 81 voters, or 45%, were bearish on the yellow metal; and 34 people, or 17%, neutral…

"Market professionals are slightly at odds with the retail side, with more analysts expecting to see higher prices next week. Out of 35 market experts contacted, 20 responded, of which 9, or 45%, said they expect to see higher prices next week. At the same time, seven professionals, or 35%, said they see lower prices, and four people, or 20%, were neutral on gold."
Elsewhere, silver for December delivery declined 14 cents, or 1%, to close at $14.51 an ounce. Silver prices dipped 0.3% on the week and they are down 7% on the year.
In PGM futures on Friday and for the week:
October platinum settled down $16.30, or 1.7%, to $964.90 an ounce, sliding 2.8% from a week ago.

Palladium for December delivery dipped $1.50, or 0.3%, to $591 an ounce, yet still advanced 2.4% on the week.
For the year to date, platinum is off 20.2% and palladium is down 26%.
London precious metals declined on Friday and mostly fell from a week ago. In comparing London bullion prices from Thursday PM to Friday PM:
Gold declined $9.25, or 0.8%, to $1,100.25 an ounce.
Silver fell 14 cents, or 1%, to $14.58 an ounce.
Platinum declined $16, or 1.6%, to $971 an ounce.
Palladium fell $4, or 0.7%, to $587 an ounce.
For the week, gold dropped 1.6%, silver shed 0.7%, and platinum lost 2%. Like futures in New York, LBMA palladium was the exception on the week. It advanced 2.1%.
US Mint Bullion Coin Sales in September
United States Mint bullion sales mixed it up this week with silver coins maxed and gold coins easing. Three weeks ago, gold sales were the strongest of the year.
This week, gold coins advanced 29,500 ounces after last week's 48,000 ounces. Sales splits include 25,000 ounces in American Gold Eagles compared to 40,000 previously and 4,500 ounces in American Gold Buffalo coins compared to 8,000 ounces previously.
For a sixth week in a row, gains in silver sales came entirely from American Silver Eagles because the first three 2015-dated America the Beautiful Five Ounce Silver Bullion Coins sold out and the next one does not launch until Sept. 30.
American Silver Eagles at 33,495,500 for the year continue to run at a record annual pace even with the Mint's use of weekly sales limits. Those limits began after the Mint's inventory of Silver Eagles temporarily ran out in July. The Mint restricted Silver Eagles sales this week to 1 million, and all were claimed by Thursday. In 2014 when sales ended at a record 44,006,000, the coins by this time posted sales of 28,891,000. The U.S. Mint last year also allocated sales of Silver Eagles but not during the summer months
Below is a listing of United States Mint bullion products with the number of coins sold during varying periods. Products with an asterisk (*) are no longer available.
US Mint Bullion Sales (# of coins)
Friday Sales
Thursday Sales
Last Week
Current Week
August Sales
Sept Sales
YTD Sales
$50 American Eagle 1 Oz Gold Coins
0
4,000
28,500
21,500
78,500
41,000
462,500
$25 American Eagle 1/2 Oz Gold Coins
0
1,000
3,000
1,000
8,000
3,000
57,000
$10 American Eagle 1/4 Oz Gold Coins
0
0
8,000
2,000
24,000
4,000
126,000
$5 American Eagle 1/10 Oz Gold Coins
0
15,000
80,000
25,000
130,000
70,000
725,000
$50 American Buffalo 1 Oz Gold Coins
0
1,000
8,000
4,500
20,000
10,000
158,500
$1 American Eagle 1 Oz Silver Coins
0
90,500
1,000,000
1,000,000
4,935,000
1,245,000
33,495,000
2015 Homestead 5 Oz Silver Coins*
–
35,000
2015 Kisatchie 5 Oz Silver Coins*
–
42,000
2015 Blue Ridge Parkway 5 Oz Silver Coins*
–
45,000