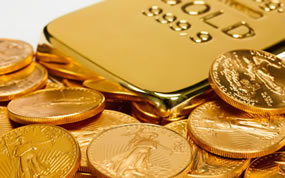 Precious metals retreated Friday, adding to their weekly declines. It was a fourth straight for gold, although prices did climb from a seven-week low to pare losses.
On Friday, gold for April delivery slipped $2.70, or 0.2%, to settle at $1,204.90 an ounce on the Comex division of the New York Mercantile Exchange.
"Both gold and silver could benefit if the situation in the euro zone deteriorates, but I don't see the other precious metals benefiting," Reuters quoted Capital Economics analyst Caroline Bain. "Increasingly, it's the industrial story that is important to them."
"You see some safe-haven inflows," Bloomberg News quoted Andrey Kryuchenkov, an analyst at Natural Resources Consulting in London. "There is lack of real liquidity. China is still on holiday, so there is no physical support to the market."
Gold's weekly declined ended up at 1.8%. Despite the string of weekly losses, gold prices are 1.8% higher than their close last year at $1,184.10 an ounce.
Silver for March delivery shed 11 cents, or 0.7%, to close at $16.27 an ounce. Silver led weekly losses among precious metals, plunging 5.9%. Still, silver prices have gained 4.3% since ending 2014 at $15.60 an ounce.
In PGM futures on Friday and for the week:
April platinum eased $2.80, or 0.2%, to $1,169.50 an ounce, and declined 3.2% from a week ago.

Palladium for March delivery lost $7.60, or 1%, to $779.20 an ounce, and gave back 1.9% on the week.
For the year so far, platinum has fallen 3.3% and palladium has given up 2.4%.
London Fix Precious Metals
London precious metals were mixed on Friday and declined for the week. In comparing London bullion Fix prices from Thursday PM to Friday PM:
Gold shed $1.25, or 0.1%, to $1,208.25 an ounce,
Silver dropped 39 cents, or 2.3%, to $16.34 an ounce,
Platinum slid $4, or 0.3%, to $1,166 an ounce, and
Palladium added $2, or 0.3%, to $783 an ounce.
Weekly declines stacked to 2% for gold, 3.1% for silver, 2.9% for platinum and 0.4% for palladium.
US Mint Bullion Coin Sales in February
United States Mint bullion sales were mixed on the week with demand growing modestly for silver coins and falling slightly for gold coins. In the latest weekly sales comparisons:
Silver coins gained 792,500 ounces after advancing by 772,500 ounces last week. American Silver Eagles accounted for 720,000 ounces and the new Homestead silver coin, the first of the 5 oz. 2015-dated coins, contributed 72,500 ounces. 2015 Silver Eagle sales at over 7.77 million are just quicker than the pace through the same time in 2014. Last year was a record year at over 44 million coins sold. 2014 Silver Eagles reached 7.2 million by Feb. 20, 2014.

Gold coins rose by 8,000 ounces after gaining 10,500 ounces in the prior week. Splits were 5,000 ounces in American Gold Eagles compared to 3,000 ounces previously, and 4,000 ounces in American Gold Buffalo coins compared to 4,000 ounces previously.
Below are U.S. Mint bullion products with columns listing the number of bullion coins sold during varying time periods.
American Eagle and Buffalo Bullion Sales (# of coins)
Friday Sales
Last Week
Current Week
January Sales
February Sales
YTD Sales
$50 American Eagle Bullion Gold Coins
0
2,500
4,500
51,500
9,000
60,500
$25 American Eagle Bullion Gold Coins
0
2,000
0
18,000
2,000
20,000
$10 American Eagle Bullion Gold Coins
0
0
0
36,000
0
36,000
$5 American Eagle Bullion Gold Coins
0
30,000
5,000
115,000
40,000
155,000
$50 American Buffalo Bullion Gold Coins
0
4,000
3,000
34,500
9,000
43,500
$1 American Eagle Silver Bullion Coins
69,500
772,500
720,000
5,530,000
2,244,500
7,774,500
2015 Homestead 5 Oz Silver Bullion Coins
300
N/A
14,500
N/A
14,500
14,500