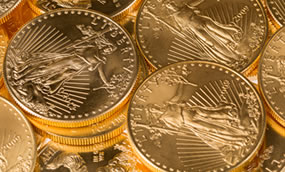 Gold futures finished higher on Friday, snapping a four-session losing streak, but still ended down from a week ago when prices notched a more than six-week high. Even as gold declined, United States Mint gold coins were on fire with weekly sales of American Gold Eagles the highest of the year.
On Friday, gold for December delivery tacked on $11.40, or 1%, to settle at $1,134 an ounce on the Comex division of the New York Mercantile Exchange. Gold futures dropped 2.2% on the week after soaring last week by 4.2% to mark their highest close since July 8 and their biggest weekly increase since mid-January.
"It has a detrimental impact on investor confidence that gold doesn't sustain rallies and it seems to get locked into trading ranges but it has to be remembered nevertheless that although gold has corrected lower on the firmer dollar, it has done well compared to other commodities," Reuters quoted broker Sharps Pixley CEO Ross Norman.
The yellow metal has fallen just over $50, or about 4.2%, since its final 2014 settlement at $1,184.10 an ounce. Looking ahead to next week, Kitco News offers the following forecasts via their Wall Street vs. Main Street survey:
"This week, 235 people participated in Kitco's weekly online gold survey. Among the participants, 98 people, or 42% are bullish on gold next week; 102 voters, or 43%, are bearish on the yellow metal; and 35 people, or 15%, are neutral…

The results of Kitco's market professional survey were considerably more definitive as a strong majority expected gold prices to push higher next week. Out of 35 market experts contacted, 17 responded, of which 12, or 71%, said they expect to see higher prices next week. At the same time, three professionals, or 18%, said they see lower prices, and two people, or 12%, are neutral on gold."
Elsewhere, silver logged a second day of gains after falling for four straight sessions. Silver for December delivery rose 11 cents, or 0.8%, to settle at $14.55 an ounce. It jumped 38 cents on Thursday. Still, silver prices plunged 75 cents, or 4.9%, from a week ago and they are off on the year to date by 6.7%.
In other precious metals futures on Friday and for the week:
October platinum advanced $15.70, or 1.6%, to $1,021.70 an ounce, dipping 0.5% from a week earlier.

Palladium for December delivery surged $22.25, or 3.9%, to $590.15 an ounce, falling 2.4% on the week.
For the year, platinum is off 15.5% and palladium is down 26.1%.
London Precious Metals Prices
London precious metals advanced on Friday but dropped on the week. In comparing London bullion prices from Thursday PM to Friday PM:
Gold rose $16, or 1.4%, to $1,135 an ounce.
Silver added 17 cents, or 1.2%, to $14.44 an ounce.
Platinum gained $13, or 1.3%, to $1,003 an ounce.
Palladium surged $25, or 4.6%, to $573 an ounce.
For the week, declines totaled 1.9% for gold, 6.6% for silver, 2.4% for platinum and 6.1% for palladium.
US Mint Bullion Coin Sales in August
United States Mint gold coins soared with American Gold Eagle sales in the last five days alone topping the monthly totals logged in February, March, April and May. Their sales rallied 68,500 ounces after last week's 16,500 ounces. Sales splits include 56,500 ounces in American Gold Eagles compared to 15,000 previously and 12,000 ounces in American Gold Buffalo coins compared to 1,500 ounces previously.
U.S. Mint silver coin sales were somewhat stunted this week, but only because their availability was limited. They remain on a record annual pace. Silver coins advanced by 812,500 ounces after rising by 1,187,500 ounces last week. For a fourth straight week, increases came entirely from American Silver Eagles with America the Beautiful Five Ounce Silver Bullion Coins sold out and the next one not available until Sept. 30. In addition, the Mint's entire weekly allocation of Silver Eagles was claimed on Tuesday.
American Silver Eagles for the year at 31,495,000 are tracking a record, despite the latest use of weekly sales limits after inventory temporarily ran out in July. In 2014 when sales ended at a record 44,006,000, the coins by Aug. 28, 2014 logged sales of 28,111,000. The Mint last year also allocated sales of Silver Eagles but not during the summer months.
Below is a listing of U.S. Mint bullion products with the number of coins sold during varying periods. Products with an asterisk (*) are no longer available.
US Mint Bullion Sales (# of coins)
Friday Sales
Last Week
This Week
July Sales
August Sales
YTD Sales
$50 American Eagle 1 Oz Gold Coins
8,000
10,500
47,500
144,500
69,500
412,500
$25 American Eagle 1/2 Oz Gold Coins
1,000
2,000
4,000
10,000
7,000
53,000
$10 American Eagle 1/4 Oz Gold Coins
2,000
0
12,000
28,000
18,000
116,000
$5 American Eagle 1/10 Oz Gold Coins
5,000
35,000
40,000
135,000
95,000
620,000
$50 American Buffalo 1 Oz Gold Coins
1,000
1,500
12,000
32,000
17,500
146,000
$1 American Eagle 1 Oz Silver Coins
0
1,187,500
812,500
5,529,000
4,180,000
31,495,000
2015 Homestead 5 Oz Silver Coins*
–
35,000
2015 Kisatchie 5 Oz Silver Coins*
–
42,000
2015 Blue Ridge Parkway 5 Oz Silver Coins*
–
10,000
–
45,000