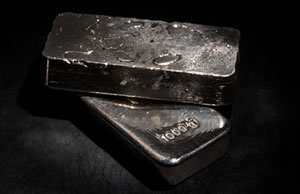 Gold futures closed higher on Friday for the first time in four days to snap a five-week losing streak, but prices still plunged in July.
Gold for December delivery climbed $6.40, or 0.6%, to settle at $1,095.10 an ounce on the Comex division of the New York Mercantile Exchange. Friday's gain was supported, opined analysts, by a report showing a weaker-than-expected rise in U.S. labor costs.
"The employment cost index was lower than expected, and it does not seem there is enough evidence for a September rate hike," George Gero, a vice president of global futures at RBC Capital Markets in New York, said in a telephone interview reported on Bloomberg News. "That pushed the dollar down and gave gold some support."
Gold's weekly increase of 0.9% reduced its loss in July to 6.5%. The yellow metal is down 7.5% since its final settlement in 2014 at $1,184.10 an ounce. Looking ahead to next week, Kitco News offers the following forecasts via their Wall Street vs. Main Street survey:
"Kitco News's weekly online survey still shows that the majority expect to see lower prices in the near-term. This week, 420 people participated in the survey; of those 285 people, or 68%, said they are bearish on gold next week; 108 participants, or 26%, are bullish and 27 people, or 6%, are neutral. This is the third consecutive week the majority of retail investors have been bearish on gold prices.

While the retail side remains pessimistic, there appears to be some quantified hope among market professionals that prices will build a base around the new lows. Out of 33 market experts contacted, 17 responded, of which four, or 24%, said they expect to see higher prices next week. At the same time, six professionals, or 35%, said they see lower prices, and seven people, or 41%, are neutral on gold."
Elsewhere, silver for September delivery added a nickel, or 0.3%, to settle at $14.75 an ounce. Silver prices jumped 1.8% on the week yet tumbled 5.4% in July. They have declined the least of the precious metals this year, down 5.5%.
In PGM futures on Friday and for the week:
October platinum shed $4.90, or 0.5%, to $985 an ounce, but rose 0.4% from a week ago.

Palladium for September delivery fell $9.70, or 1.6%, to $610.85 an ounce, dropping 1.9% on the week.
In July, platinum declined 8.8% and palladium lost 9.2%. The two metals are well lower on the year with platinum off 18.6% and palladium down 23.5%.
London Precious Metals Prices
London precious metals prices ended mixed on Friday. In comparing London bullion prices from Thursday PM to Friday PM:
Gold gained $10.90, or 1%, to $1,098.40 an ounce.
Silver shed 8 cents, or 0.6%, to $14.56 an ounce.
Platinum lost $5, or 0.5%, to $979 an ounce.
Palladium declined $11, or 1.8%, to $610 an ounce.
For the week, gainers included gold by 1.6% and silver by 0.5%. Platinum was unchanged while palladium fell 1%. In July, the metals declined by 6.2% for gold, 8.4% for silver, 9.2% for platinum and 9.9% for palladium.
US Mint Bullion Coin Sales in July
United States Mint bullion coins surged with monthly sales of American Gold Eagles the highest since April 2013 and monthly sales of American Silver Eagle and American Gold Buffalo coins the strongest since January when 2015-dated issued debuted. In the latest monthly and year-ago comparisons:
American Eagle gold coins advanced 170,000 ounces in July compared to 76,000 ounces in the prior month and just 30,000 ounces from a year earlier. In year-to-date sales, American Gold Eagles are at 443,000 ounces versus 296,000 ounces from the same period in 2014.

Despite a sales suspension that lasted nearly three weeks, American Eagle silver coins soared 5,529,000 for the month compared to 4,840,000 in June and 1,975,000 in July 2014. They surged 1.3 million in their return on Monday, the biggest daily increase since the day the 2015-dated version launched on Jan. 12 Sales for the year so far are 27,315,000 and above last year's 7-month total of 26,103,500. Last year, American Silver Eagle sales ended at 44,006,000 for an annual record.

American Buffalo gold coins advanced 32,000 on the month compared to 21,000 in June and 5,500 in July of last year. Sales at 128,500 for the year compare to 117,000 in the first seven months of 2014.

America the Beautiful Five Ounce Silver Bullion Coins moved up 8,600 in July after gaining 35,000 in June. All sales came from the Blue Ridge Parkway coin which sold out on Wednesday. The next five-ounce issue will not launch until Sept. 30.
Below is a listing of U.S. Mint bullion products that shows the number of coins sold during varying periods. Products with an asterisk (*) are no longer available.
US Mint Bullion Sales (# of coins)
Friday Sales
Last Week
This Week
June Sales
July Sales
YTD Sales
$50 American Eagle 1 Oz Gold Coins
0
37,500
22,000
62,500
144,500
343,000
$25 American Eagle 1/2 Oz Gold Coins
0
3,000
3,000
4,000
10,000
46,000
$10 American Eagle 1/4 Oz Gold Coins
0
4,000
6,000
12,000
28,000
98,000
$5 American Eagle 1/10 Oz Gold Coins
0
20,000
20,000
85,000
135,000
525,000
$50 American Buffalo 1 Oz Gold Coins
0
12,500
6,500
21,000
32,000
128,500
$1 American Eagle 1 Oz Silver Coins
0
0
2,820,000
4,840,000
5,529,000
27,315,000
2015 Homestead 5 Oz Silver Coins*
–
35,000
2015 Kisatchie 5 Oz Silver Coins*
–
42,000
2015 Blue Ridge Parkway 5 Oz Silver Coins*
0
0
2,400
35,000
10,000
45,000