Heritage's July 9 to 12 coin auctions, held in conjunction with the Summer FUN Show in Orlando, rang in over $8.3 million in sales.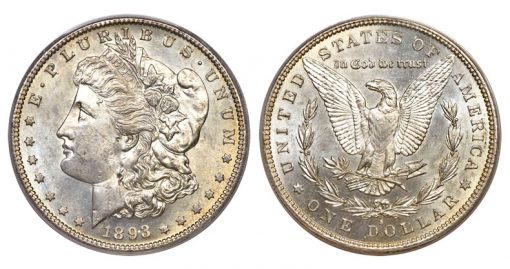 Drawing top honors, the company said, was an 1893-S Morgan dollar. Graded MS63 by the Professional Grading Service (PCGS) and one of the rarest issues in the series, the silver dollar realized $282,000.
"The 1893-S is well-known to claim the series-low regular-issue mintage of only 100,000 coins, and its status as the paramount key to the series has never been questioned," Heritage describes. "Simply, the 1893-S Morgan dollar is by a significant margin the rarest date in the series in Mint State."
An 1803 Large 3 half-dollar, Large Reverse Stars MS63 PCGS, and one of only six Mint State Large 3 examples known at PCGS, brought $99,875.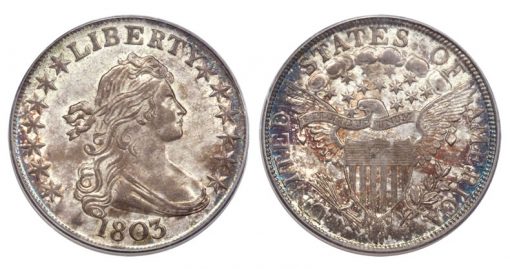 Right behind was a 1776 New Hampshire Copper Good 6 PCGS CAC. It drew $94,000.
"Variety was the hallmark of this auction," said Greg Rohan, President of Heritage Auctions. "Collectors were in the mood to add to diverse specialties within their collections and Heritage was happy to oblige with our Summer FUN lineup."
Gold collectors found much to applaud in the sale, with gold rarities rounding out the auctions' top offerings:
a 1915-S Panama-Pacific round $50 MS61 NGC, a tremendously popular commemorative token of wisdom and industry, realized $64,625;
an 1863 Gold $3 semiprooflike MS67 NGC, a showcase-worthy rarity, brought $61,700, and
an 1852 Humbert $50 AU55 NGC, a hefty Gold Rush memento, struck under Moffat & Company, realized $49,350.
Additional highlights from the sale include, but are not limited to:
1916 Buffalo Nickel, Lightly Toned AU58 NCG: Famous Doubled Die Obverse. Realized $49,350.
1855 Wass, Molitor & Co. $20 AU53 NCG: Small Head variety, rare in all grades. Realized $47,000.
1852 $10 Assay Office $10 MS63 PCGS CAC: Rare and well-preserved example of one of the most widely recognized and collected of all territorial gold issues. Realized $42,300.
1871-CC $20 XF40 PCGS: Fine example of the rarest double eagle from the famous Carson City Mint. Realized $42,300.
Heritage Auctions is the largest auction house founded in the U.S. and the world's third largest, with annual sales topping $900 million. To learn more about the company, visit HA.com.