DALLAS, TX – An original 1867 5C Rays PR65 Cameo NGC. Dannreuther-1A, State a/a, a highly desirable and celebrated rarity, brought $57,500 to lead Heritage's $7,387,384 July Orlando, FL Summer FUN Signature US Coin Auction.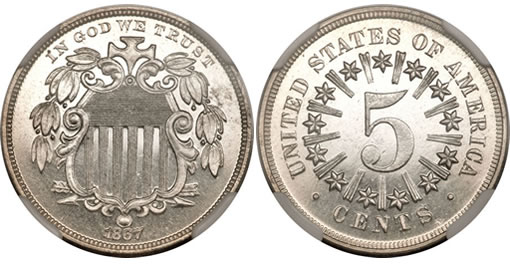 Original 1867 Rays Gem Cameo Proof Shield Nickel leads the way with $57,500 price realized; demand for rare gold coinage steady
Demand for high quality numismatic gold rarities continued in Orlando, with seven of the top 10 lots being gold rarities. All prices include 15% Buyer's Premium.
"We're quite happy with the result of this auction," said Greg Rohan, President of Heritage Auctions. "It was a small auction by Heritage standards, but quite focused, and collectors responded. The result was a very successful auction."
More than 3700 bidders competed for the offerings, which saw a 94% sell-through rate by total lots.
The 1867 Rays Gem Cameo Proof Shield Nickel is a coin well known to specialists and advanced numismatists and the competition for this specimen was indeed heated before landing in the collection of a smart buyer. Though there may be more 1867 Rays proofs known than originally thought, many are known to be later restrikes, while this piece bears every hallmark of being one of the few – likely 10-15 total – true originals struck.
A momentous 1829 Quarter Eagle, BD-1, MS64 NGC, Breen-6132, High R.4. followed the 1867 Rays Gem Cameo Shield Nickel, competing for top honors and almost nabbing the top spot in auction with a final price of $51,750, a mark that was equaled by an historic 1803 $10 Small Stars Reverse MS61 NGC, Breen-6844, Taraszka-28, BD-3, R.4.
One of the most hotly contested non-gold lots of the top 10 was a magnificent 1865 25C, Briggs 1-A MS66 PCGS, CAC, an exceptional example from the concluding year of the Civil War, and an important opportunity for the Seated specialist, one of whom added the coin to their collection for a price realized of $48,875.
A remarkable 1907 $20 High Relief, Flat Rim MS65 PCGS, was close on the heels of the 1865 25C, with a price realized of $46,000. This coin was a result of the numismatically inclined President Theodore Roosevelt, who wanted to create coins for the United States that would rival the beauty of those struck by the ancient Greeks. The result was the 1907 High Relief double eagle, considered by many to be the crowning achievement of Roosevelt's coinage renaissance.
Further highlights include, but are not limited to:
About Heritage Auctions
Heritage Auctions, headed by Steve Ivy, Jim Halperin and Greg Rohan, is the world's third largest auction house, with annual sales more than $600 million, and 500,000+ registered online bidder members. For more information about Heritage Auctions, and to join and gain access to a complete record of prices realized, along with full-color, enlargeable photos of each lot, please visit HA.com.