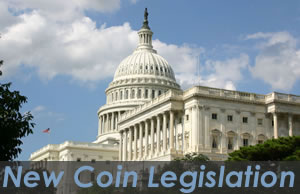 Legislation was introduced this week to celebrate the 400th anniversary of the Pilgrims arrival at Plymouth, Massachusetts with 2020-dated commemorative coins from the United States Mint.
Bills S.1715 and H.R.2980, named the Mayflower Commemorative Coin Act, seek up to 50,000 $5 gold coins and no more than 100,000 silver dollars with designs emblematic of the historic arrival of the Pilgrims. The colonists, passengers of the famed ship Mayflower, established their settlement at Plymouth in 1620. It became the second successful English colony after the founding of Jamestown, Virginia, in 1607.
Under the proposed legislation and with one exception, specifications for the Mayflower coins would match that of other modern commemoratives with finishes in collector qualities of proof and uncirculated. For years, commemorative coin legislation has called for silver coins that "contain 90% silver and 10% copper." Interestingly, H.R.2980 states that they shall "contain at least 90 percent silver." This language gives the U.S. Mint leeway to strike silver commemoratives in higher fineness such as .999.
Final designs would get selected by the U.S. Secretary of the Treasury after consultation with the General Society of Mayflower Descendants (GSMD) and reviews by the United States Commission of Fine Arts (CFA) and Citizen's Coinage Advisory Committee (CCAC).
The Act calls for surcharges on sales of the commemorative at amounts of $35 for each $5 gold coin and $10 for every silver dollar. Collected funds would go to GSMD for educational purposes. The non-profit's mission is to tell the story of the Pilgrim's journey on the Mayflower in 1620 and raise public awareness and understanding of the importance of the Pilgrim's lives and their legacies.
Bill H.R.2980 was introduced in the House by Rep. Bill Foster, D-IL., on Wednesday, July 8, and awaits action in the Committee on Financial Services.
The companion Senate bill, S.1715, was introduced on the same day by Sen. John Hoeven, R-ND. It moved to Committee on Banking, Housing, and Urban Affairs.