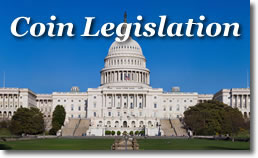 The Future Farmers of America (FFA) will celebrate its 85th anniversary in late 2013 through to 2014. To help celebrate the organization and occasion, a dozen U.S. Senators led by Sen. Chuck Grassley of Iowa have introduced new legislation seeking FFA commemorative coins.
Known as the National Future Farmers of America Commemorative Coin Act of 2011 and numbered S. 1181, the bill would authorize the United States Mint to produce up to 100,000 gold commemorative coins and as many as 500,000 silver commemorative coins that are "emblematic of the 85-year history of the National Future Farmers of America Organization."
The FFA was founded by farmers in 1928 to prepare "future generations for the challenges of feeding a growing population." It currently has more than 523,000 members in nearly 7,500 local chapters throughout the United States, Puerto Rico, and the U.S. Virgin Islands.
Should the proposed legislation become law — it must pass in the Senate and House and get signed by the President — the United States Mint could begin selling the commemoratives as early as January 1, 2014.
The FFA commemorative coins would be produced in both uncirculated and proof qualities. The gold coins would weigh 8.359 grams, have a diameter of 0.850 inches and feature a composition of 90 percent gold. The silver coins would weigh 26.7 grams, have a diameter of 1.500 inches and contain 90 percent silver and 10 percent copper.
S. 1181 does not represent new legislative grounds to commemorate the FAA and its anniversary. Two previous attempts in the form of bills S. 1553 and H.R. 3464 were introduced in the Senate and House back in July 2009. The Senate version was also proposed by Mr. Grassley. Both bills died from inaction.
Should the National Future Farmers of America Commemorative Coin Act of 2011 garner enough support and become law, surcharges of $25 per gold coin and $10 per silver coin would be paid to the National FFA Foundation in Indianapolis, Indiana. Those surcharges would, according to the legislation:
"Enhance and expand programs that encourage agricultural literacy and the development of leadership skills, personal growth, and career success through agricultural education and the Future Farmers of America."
S. 1181 has been referred to the Committee on Banking, Housing, and Urban Affairs.
Refer to this site's commemorative coins page for information on already released commemoratives.