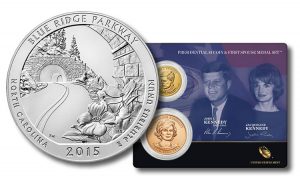 Australian coins, Canadian coins, a five-ounce Blue Ridge Parkway silver coin, and a Kennedy $1 Coin and First Spouse Medal Set are among new collector releases this week from U.S. and world mints.
On Tuesday, July 7, the United States Mint will issue the 2015-P Blue Ridge Parkway Five Ounce Silver Uncirculated Coin, which is the third of the five-ounce issues for this year. Priced at $149.95, the three-inch, .999 fine silver coin features the same designs as the recently released Blue Ridge Parkway quarter. The new coin's product page is located here.
Then on Thursday, July 9, the U.S. Mint will release the Kennedy Presidential $1 Coin & First Spouse Medal Set for $9.95. It has an uncirculated quality John F. Kennedy Presidential $1 Coin and a Jacqueline Kennedy First Spouse Bronze Medal. The set's product page is located here.
Products from the United States Mint launch at 12 Noon (EDT) on their release day.
New Australian coins from the Perth Mint launch at 8:00AM (AWST) on July 7 and include:
Mini Koala 2015 0.5g Gold Coin
150th Anniversary of Alice's Adventures in Wonderland 2015 1oz Silver Proof Coin
150th Anniversary of Alice's Adventures in Wonderland 2015 2oz Silver Antiqued Clock Coin
Wedge-tailed Eagle 2015 1oz Gold Proof High Relief Coin
Wedge-tailed Eagle 2015 1oz Silver Proof High Relief Coin
Australian Kangaroo 2015 1oz Silver Proof High Relief Coin
Australian Outback 2015 1/2oz Silver Coloured Coin Collection
Star Trek: Deep Space Nine Captain Benjamin Sisko & Deep Space 9 2015 1oz Silver Proof two-Coin Set
Star Trek: Deep Space Nine Captain Benjamin Sisko 2015 1oz Silver Proof Coin
Star Trek: Deep Space Nine Deep Space 9 2015 1oz Silver Proof Coin
Sunburnt Country – I love her jewel sea 2015 1oz Silver Rectangle Coin
Disney Princess – Jasmine 2015 1oz Silver Proof Coin
Disney Princess – Jasmine 2015 1/4oz Gold Proof Coin
100th Anniversary of Lighthouse Service 2015 $1 Coin
As always, we'll cover new releases here on CoinNews.net. Until then, here are last week's most read articles: