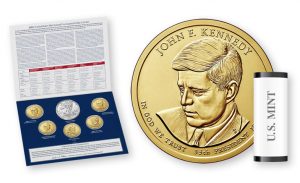 The United States Mint next week will release several new products for collectors, ending a one-month dry spell since their last collectible debuted in mid-May.
On Tuesday, June 16, the U.S. Mint will issue the 2015 Annual Uncirculated Dollar Coin Set for $46.95. The set includes this year's:
four Presidential $1 Coins honoring Harry S. Truman, Dwight D. Eisenhower, John F. Kennedy, and Lyndon B. Johnson;
the Native American $1 Coin; and
an uncirculated 2015 American Silver Eagle
All six uncirculated-quality coins arrive mounted within a durable folder that includes coin information and specifications. The set's product page is located here.
Then on Thursday, June 18, the Mint will issue circulating-quality John F. Kennedy Presidential $1 Coins in rolls, bags and boxes. Prices of the JFK products range from $32.95 to $275.95. Product packaging displays the President's name, the mint of origin ("P" or "D"), and the face value of the contents. The Mint's Presidential $1s are located here.
These upcoming collectibles launch beginning at 12 Noon ET on their release day. They have no product, per household, or mintage limits.