At noon ET today, May 4, the United States Mint released the much-awaited 2015 March of Dimes Special Silver Set for $61.95. Early ordering for the prized set of three silver coins appears to have gone off without major hiccups, although there have been some reports of sluggishness between the order processing and confirmation steps. That would seem to suggest very strong sales.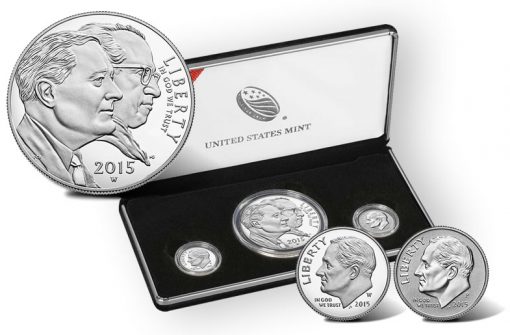 Many collectors believe the silver set will sell out at its limit of 75,000. The two dimes are drawing special interest. Not only are they U.S. Mint firsts, but the set's product limit guarantees that they will have the lowest mintage in the Roosevelt dime series. They are exclusive to the set.
Ordering limits are further restricted to five sets per household. If everyone bought five, it'd take just 15,000 orders for a sellout.
Commemorating the 75th anniversary of the March of Dimes Foundation, held within the set's black velvet case are:
One proof 2015-W March of Dimes Proof Silver Dollar from West Point,
One reserve proof 2015-P Roosevelt Silver Dime from Philadelphia, and
One proof 2015-W Roosevelt Silver Dime from West Point
The U.S. Mint has never produced a reverse proof silver dime, or a proof silver dime from West Point. And again, the set is the only way to get either one.
A reverse proof finish has the opposite appearance of standard proofs, with mirror-like designs and frosted backgrounds. Standard proof silver dimes appear each year within annual sets, like this year's 2015 Silver Proof Set that launches next week for $53.95, but those are from the U.S. Mint in San Francisco and have a 'S' mint mark. The Mint released images of the two dimes back in March, and you can see how they compare below. Both are different from those you'll find in circulation.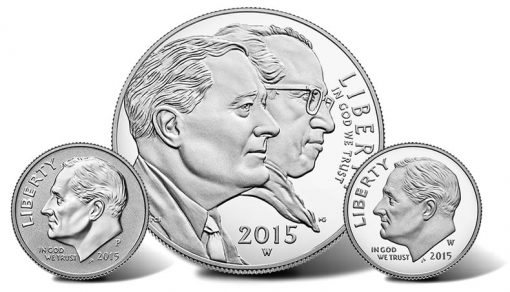 Earlier this year, on March 13, proof and uncirculated March of Dimes silver dollars launched separately. (See photos of the silver dollars.) The proof version, which is a part of this set, is available by itself for $51.95 and has current sales of 42,424.
That places the Mint's price for each unique dime at $5, given the set's $61.95 price.
Ordering
2015 March of Dimes Special Silver Sets are available from the Mint's webpage, located here, or by calling 1-800-USA-MINT (872-6468). Sets also include a United States Mint certificate of authenticity.
A surcharge of $10 has been added to the price of each silver dollar, as required by Public Law 112-209, to help the March of Dimes Foundation (www.marchofdimes.org) fund finance research, education, and services aimed at improving the health of women, infants, and children.
Coin Specifications
U.S. Mint-provided specifications for the three coins follow.
2015 March of Dimes Proof Silver Dollar
2015 Silver Roosevelt Dime
2015 Silver Roosevelt Dime
Denomination:
$1
10 cents
10 cents
Finish:
Proof
Reverse Proof
Proof
Composition:
90% Silver, 10% Copper
90% Silver, 10% Copper
90% Silver, 10% Copper
Diameter:
1.500 inches (+/- 0.003)
38.10 mm (+/- .08)
0.705 inch (17.9 mm)
0.705 inch (17.9 mm)
Weight:
26.730 grams nominal
2.500 grams
2.500 grams
Edge:
Reeded
Reeded
Reeded
Mint and Mint Mark
West Point – W
Philadelphia – P
West Point – W