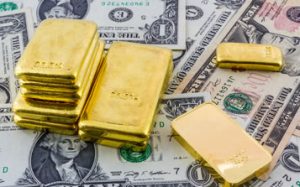 Gold prices surged earlier this week, scoring a three-week high with a close near $1,214 an ounce. Prices tumbled from there, starting on Wednesday with a bearish-taken FOMC statement for safe-havens and continuing through Friday in reaction to stronger-than-expected U.S. jobs numbers.
Gold for June delivery declined $7.90, or 0.7%, to close at $1,174.50 an ounce on the Comex division of the New York Mercantile Exchange. The settlement price is the lowest since March 19 when gold ended at $1,169.44 an ounce.
"There is still fallout from the FOMC — there has been a hiccup in the U.S. recovery, but certainly the view is that interest rates are going up, so gold is struggling," Reuters quoted Simon Weeks, head of precious metals at the Bank of Nova Scotia.
Gold slipped just 50 cents on the week, but the weekly loss marks a third straight. Prices are off 0.8% since their final settlement in 2014 at $1,184.10 an ounce.
In looking ahead, Kitco News offers the following in their Wall Street vs. Main Street survey:
"Main Street vs Wall Street gold survey shows almost mirror opposites as Kitco readers expect higher gold prices in the near term while market experts expect to see them lower.

Looking at the results of the online survey, 351 people voted; of those, 170 participants, or 48%, expect to see higher gold prices next week, 117 people, or 33%, expect to see lower prices and 64, or 18%, are neutral.

This week, out of 33 market experts contacted, 19 responded; of those, 9 participants, or 47%, see lower prices, 6 experts, or 32%, see higher prices and 4, or 21%, are neutral on the gold market."
Silver for July delivery lost nearly 2 cents, or 0.1%, to close at $16.14 an ounce. The white metal rallied from a week ago, however, soaring 3.2%. Silver prices are up 3.4% on the year.
In PGM futures on Friday and for the week:
July platinum fell $10.70, or 0.9%, to $1,129.70 an ounce, but advanced 0.7% from a week ago.

Palladium for June delivery shed $2.75, or 0.4%, to $773.75 an ounce, but gained 05% on the week.
For the year so far, platinum is down 6.6% and palladium is off 3.1%.
London Precious Metals Prices
Like bullion futures in New York, London precious metals prices also declined on Friday and split on the week. In comparing London bullion prices from Thursday PM to Friday PM:
Gold slipped $4.30, or 0.4%, to $1,175.95 an ounce,
Silver retreated 35 cents, or 2.1%, to $16.17 an ounce,
Platinum fell $9, or 0.8%, to $1,127 an ounce, and
Palladium declined $7, or 0.9%, to $772 an ounce.
Weekly London bullion losses totaled 0.6% for gold, 0.1% for platinum and 0.3% for palladium. Silver gained 2.1% from a week ago.
US Mint Bullion Coin Sales in May
United States Mint bullion coins logged a mixed weekly performance with gold sales the highest in six weeks and silver sales down sharply from last week. The slowdown in silver sales comes after last week when they registered the strongest rally since the week after the first 2015-dated Silver Eagles launched in January. In the latest weekly bullion sales comparisons:
Gold coins advanced 14,500 ounces — the most since the week ended March 20 when 16,000 ounces sold, after gaining 9,500 ounces in the prior week. Splits were 12,500 ounces in American Gold Eagles compared to 7,000 ounces previously, and 2,000 ounces in American Gold Buffalo coins versus 2,500 ounces previously.

Silver coins added 680,500 ounces after rising 902,500 ounces in the previous week. Splits were 678,000 ounces in American Silver Eagles and 2,500 ounces in new Kisatchie National Forest five ounce silver coins. This second of the 2015-dated five ounce coins went on sale a week ago Monday. They temporarily sold out on Tuesday with sales to resume next week. The first issue of the year, depicting Homestead National Monument, sold out weeks ago.
The table below offers a listing of U.S. Mint bullion products shows the number of coins sold during varying periods. Products with an asterisk (*) are no longer available.
US Mint Bullion Sales (# of coins)
Friday Sales
Last Week
Current Week
April Sales
YTD Sales
$50 American Eagle 1 Oz Gold Coins
0
5,500
11,500
23,500
122,500
$25 American Eagle 1/2 Oz Gold Coins
0
1,000
1,000
4,000
29,000
$10 American Eagle 1/4 Oz Gold Coins
0
2,000
0
4,000
48,000
$5 American Eagle 1/10 Oz Gold Coins
0
5,000
5,000
30,000
265,000
$50 American Buffalo 1 Oz Gold Coins
0
2,500
2,000
10,000
66,000
$1 American Eagle 1 Oz Silver Coins
0
755,000
678,000
2,851,500
14,922,500
2015 Homestead 5 Oz Silver Coins*
–
–
35,000
2015 Kisatchie 5 Oz Silver Coins
0
29,500
500
30,000
30,000