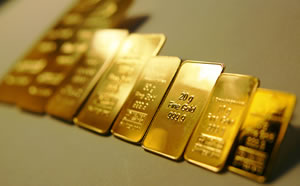 Gold prices tumbled on Thursday, erasing both their April and year-to-date gains, after stronger-than-expected U.S. jobs numbers blunted safe-haven demand.
Gold for June delivery declined $27.60, or 2.3%, to settle at $1,182.40 an ounce on the Comex division of the New York Mercantile Exchange.
"Gold is just getting spanked," Tai Wong, the director of commodity products trading at BMO Capital Markets Corp. in New York, said in a telephone interview according to Bloomberg News. "The employment picture needs to continue to improve for the Fed to start liftoff, and the weekly claims are the most immediate data available on a regular basis on the condition of the job market."
U.S. jobless claims fell 34,000 to 262,000 in the seven days from April 19 to April 25, the Labor Department said Thursday. The reading is the lowest since April 15, 2000.
"Gold has been hit not just by an improvement in the jobless figures, but the banner headline of unemployment claims at 'a fifteen-year low'," Ross Norman, chief executive officer at Sharps Pixley told MarketWatch in an email. "Interesting to note that the last time unemployment was at these levels in April 2000, it marked the peak in the dot-com bubble. With that in mind it is counter-intuitive that gold would have been so heavily sold off."
Gold prices slipped 80 cents, or less than 0.1%, in April. They are down a bit more than double that, $1.70, or 0.1%, since their close in 2014 at $1,184.10 an ounce.
Silver prices were hit harder on the day and on the month. July silver dived 55 cents, or 3.3%, to settle at $16.15 an ounce. Silver gave back 2.7% in April, but remains alone among precious metals with a gain in 2015. Prices on the year are 3.6% higher.
In PGM futures on Thursday and for the month:
July platinum fell $21.10, or 1.8%, to $1,140.40 an ounce, losing 0.3% in April

Palladium for June delivery lost $8.25, or 1.1%, to $776.50 an ounce, but gained 5.6% on the month.
For the year so far, platinum has declined 5.7% and palladium is off 2.7%.
London Precious Metals Prices
Earlier fixed London precious metals prices were divided on the day and month. In comparing London bullion prices from Wednesday PM to Thursday PM:
Gold fell $28.75, or 2.4%, to $1,180.25 an ounce,
Silver gained 4 cents, or 0.2%, to $16.52 an ounce,
Platinum declined $22, or 1.9%, to $1,136 an ounce, and
Palladium rose $3, or 0.4%, to $779 an ounce.
In April, gold and silver logged declines of 0.6% and 0.5% while platinum and palladium climbed 0.6% and 6.9%.
US Mint Bullion Coin Sales in April
United States Mint bullion sales are very strong for the week so far but they slowed overall in April. On Friday, CoinNews.net will publish a more detailed analysis for the month, but in summary:
American Eagle gold coins advanced 29,500 ounces in April, dropping 36.6% from the 46,500 ounces sold in March and off 23.4% from the 38,500 ounces moved during the same month last year. In year-to-date sales, Gold Eagles are at 175,500 ounces, down 3.6% from the same period in 2014.

American Eagle silver coins rose 2,851,500 this month, down 19% from March sales of 3,519,000 and 20.1% lower than the 3,569,000 sold a year ago April. This year's 2015 Silver Eagle sales now stand at 14,922,500 million. In record year 2014 when Silver Eagle sales ended at 44.006 million, the coins had a much higher total of 17,448,000 million by April 30.

American Buffalo gold coins rose 10,000 for the month compared to 9,500 in March and 17,500 in April of last year. Sales at 66,000 for the year are off 20.5% from the first four months in 2014 when the coin hit 83,000.

America the Beautiful Five Ounce Silver Bullion Coins jumped 30,000 in April after gaining 15,000 in March. All sales came from the new Kisatchie silver coin, which launched on April 20. The bullion coin temporarily sold out on Tuesday but sales will resume on Monday.
The table below offers a listing of U.S. Mint bullion products shows the number of coins sold during varying periods. Products with an asterisk (*) are no longer available.
US Mint Bullion Sales (# of coins)
Thursday Sales
Last Week
Current Week
March Sales
April Sales
YTD Sales
$50 American Eagle 1 Oz Gold Coins
3,000
5,500
11,500
35,000
23,500
122,500
$25 American Eagle 1/2 Oz Gold Coins
0
1,000
1,000
5,000
4,000
29,000
$10 American Eagle 1/4 Oz Gold Coins
0
2,000
0
8,000
4,000
48,000
$5 American Eagle 1/10 Oz Gold Coins
0
5,000
5,000
70,000
30,000
265,000
$50 American Buffalo 1 Oz Gold Coins
0
2,500
2,000
9,500
10,000
66,000
$1 American Eagle 1 Oz Silver Coins
0
755,000
678,000
3,519,000
2,851,500
14,922,500
2015 Homestead 5 Oz Silver Coins*
–
15,000
–
35,000
2015 Kisatchie 5 Oz Silver Coins
0
29,500
500
N/A
30,000
30,000