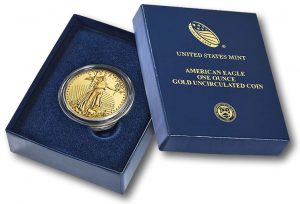 Gold jumped to a three-week high Tuesday and notched a two-day rally of more than $38, or 3.3%, but sharp losses late last week should forestall price increases on United States Mint collectible gold coins.
London gold's four-day average remains comfortably within the $1,150.00 to $1,199.99 an ounce range, the same pricing tier used by the U.S. Mint when it last adjusted coin prices on April 15. The tier also sets pricing of the upcoming 2015-W Uncirculated American Gold Eagle to $1,475, which is $100 less than where last year's coin debuted.
Gold prices on Wednesday must still be considered based on the Mint's pricing policy. That said, the AM price would have to hurdle $1,258.15 an ounce to pull coin prices higher — gold is trading near $1,212 an ounce at this writing. That's unlikely. If it happened, Mint prices on more than two dozen gold coins would climb $50 for every ounce of precious metal they contain.
Sales of this year's one-ounce, uncirculated Gold Eagle kick off at noon ET on Thursday, April 29. The $50 gold piece was introduced in 2006 as an annual issue, and is a collector version of the U.S. Mint's bullion American Gold Eagles.
United States Mint-sold gold coins are available at http://catalog.usmint.gov/coins/gold-coins/.