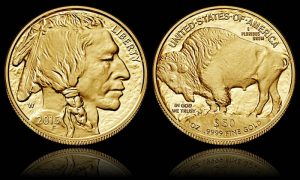 Recent gold values have readied two possible price tags for the upcoming 2015-W Proof American Gold Buffalo, and they could push prices up on other collectibles gold coins sold by the United States Mint.
Because of major and sustained gold market fluctuations, U.S. Mint pricing adjustments have happened four times this year — rising twice and falling twice. The last occurrence was on March 11, 2015 when the weekly average of London gold dropped to within the $1,150.00 to $1,199.99 an ounce range. Reversing course, the latest average has pulled to within a pricing tier that's $50 higher, although gold prices on Wednesday are still in play.
Coin News Update: The U.S. Mint raised coin prices right before 2:30 ET PM on Wednesday.
If Wednesday's AM gold price is above $1,180.49 and the PM price is atop $1,199.99 — prices at this writing are hovering near $1,210 an ounce, expect these gold coin increases:
From
Likely
2015-W Proof Gold Buffalo Coin (1 oz)
*
2015-W Proof Gold Eagle Coin (1 oz)
$1,510.00
$1,560.00
2015-W Proof Gold Eagle Coin (1/2 oz)
$770.00
$795.00
2015-W Proof Gold Eagle Coin (1/4 oz)
$397.50
$410.00
2015-W Proof Gold Eagle Coin (1/10 oz)
$170.00
$175.00
2015-W Proof Gold Eagle Four-Coin Set
$2,797.50
$2,890.00
2015 US Marshals Proof Gold Coin
$393.30
$405.45
2015 US Marshals Uncirculated Gold Coin
$388.30
$400.45
2015 US Marshals Three-Coin Set
$454.30
$466.45
1964-2014 Proof Gold Kennedy Gold Coin
$1,165.00
$1,202.50
2013 & 2014 First Spouse Gold Proof Coins
$790.00
$815.00
2013 & 2014 First Spouse Gold Uncirculated Coins
$770.00
$795.00
*Sales of this year's 24-karat proof American Gold Buffalo begin at noon ET on Thursday, April 9. Depending on what happens on Wednesday, its price will be $1,540.00 or $1,590.00.
When the United States Mint changes prices on its collectible gold coins, it freezes their ordering options until all updates are made and the new prices go live. It usually takes about 30 minutes. Pricing adjustments this year have tended to happen around 3:00 PM ET. Mint-sold gold coins are available at: http://catalog.usmint.gov/coins/gold-coins/.
This coin news article will be updated with what actually happens.