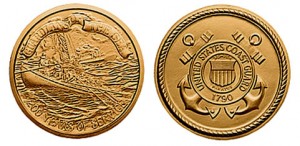 Another call has been placed to honor the Coast Guard with commemorative coins in clad, silver and gold.
On March 26, 2015, Rep. Joe Courtney [D-CT] introduced House bill H.R.1683, the United States Coast Guard Commemorative Coin Act. Bills with the same intent failed in the prior session of Congress (H.R.2932 and S.2303).
The Coast Guard (www.uscg.mil) is one of five military branches in the United States and is the only military organization within the Department of Homeland Security. Founded on Aug. 4, 1790, it now has an estimated 57,600 Active Duty, Reserve, and Civilian personnel who, each year, respond to search and rescue cases saving thousands of lives, provide security on coastal waters, and maintain tens of thousands of navigations aids.
H.R. 1683 seeks up 100,000 $5 coins; 500,000 silver dollars; and 750,000 clad half-dollars in collector qualities of proof and uncirculated and with designs emblematic of the traditions, history, and heritage of the United States Coast Guard. Should the bill become law, the Secretary of the Treasury is tasked with selecting the designs after review by the Citizens Coinage Advisory Committee and consultation with the Secretary of Homeland Security, the National Coast Guard Museum Association, and the Commission of Fine Arts.
Past bills called for commemorative coins to be issued in calendar year 2017. That has changed in this latest rendition to calendar year 2018.
Sales of the coins would include surcharges paid to the National Coast Guard Museum Association (www.coastguardmuseum.org) to help finance the design, construction, operations, and maintenance of its museum in New London, CT.
H.R. 1683 now has 106 cosponsors, and is before the House Committee on Financial Services. For legislation to become law, it must past in the House, Senate and get signed by the President.