Gift ideas abound at the Royal Canadian Mint with special occasion sets featuring 2015-dated coins to include unique dollars.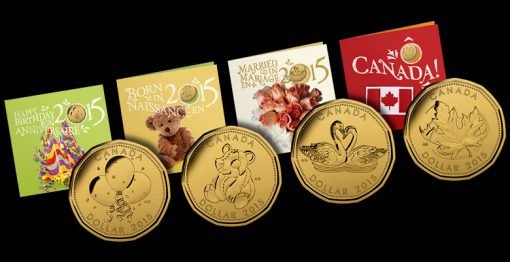 Offered in the Mint's celebratory-themed line-up are Birthday Gift Sets, Baby Gift Sets, Wedding Gift Sets and 2015 O Canada Gift Sets. Each product offers a specially struck $1 coin, which is only part of its respective set. Sets also include $2, 25¢, 10¢ and 5¢ uncirculated coins.
"Celebrate those special moments in life with a coin gift set," promotes the Royal Canadian Mint on its website. "These uncirculated coins have been carefully selected to provide you with the best examples of their kind."
These special occasion sets are available for $19.95. Additional information on the four products follows.
Canadian 2015 Birthday Gift Set
Birthday Gift Sets include a unique $1 coin bearing a reverse design by Ali Giroux. The image offers three balloons grouped together with hanging ribbons for string.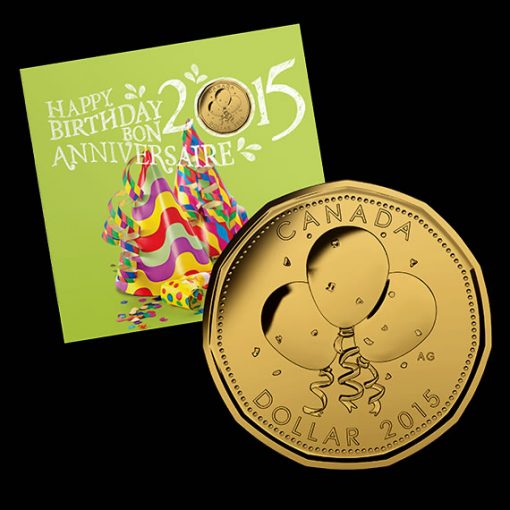 Along with the $1 coin there are this year's $2, 25¢, 10¢, and 5¢ uncirculated coins. A birthday-day themed card holds the five coins.
Canadian 2015 Baby Gift Set
Ali Giroux created a very precious design for the reverse of the $1 coin found in the 2015 Baby Gift Set. It offers the likeness of an adorable stuffed teddy bear.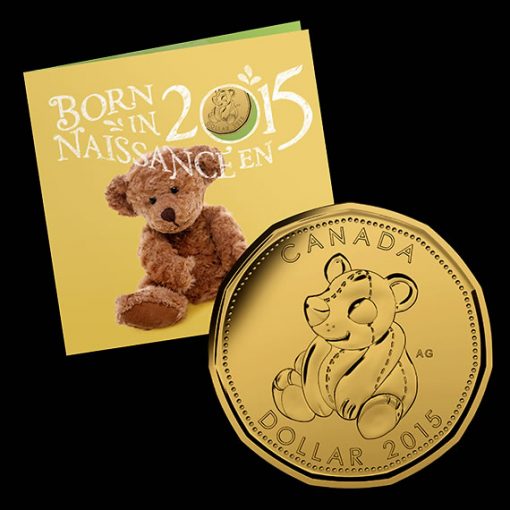 The $1 coin is attached to the presentation envelop along with the $2, 25¢, 10¢, and 5¢ uncirculated coins. These make an ideal gift for the newborn of 2015 and their parents.
Canadian 2015 Wedding Gift Set
For those couples getting married in 2015, a Wedding Gift Set is available to mark the occasion. The front of the presentation card offers a colorful image of a bouquet of flowers.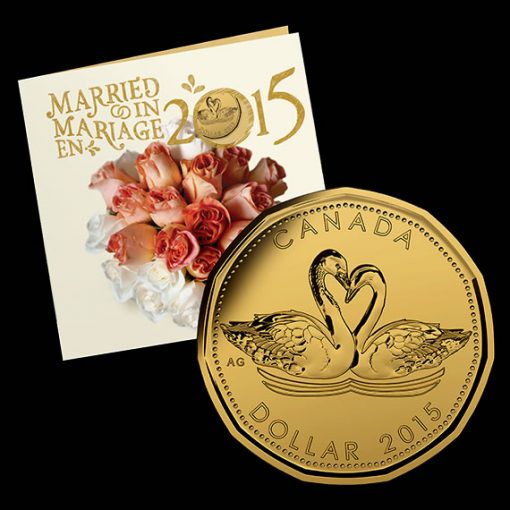 Shown on the reverse of the specially struck $1 coin are two kissing love bird swans. As with the other sets, the packaging has room for personalization.
Canadian 2015 O Canada Gift Set
For all the other special occasions of the year, the Royal Canadian Mint offers the 2015 O Canada Gift Set. In addition to the uncirculated $2, 25¢, 10¢, and 5¢ coins, a specially struck $1 coin depicts a very Canadian design.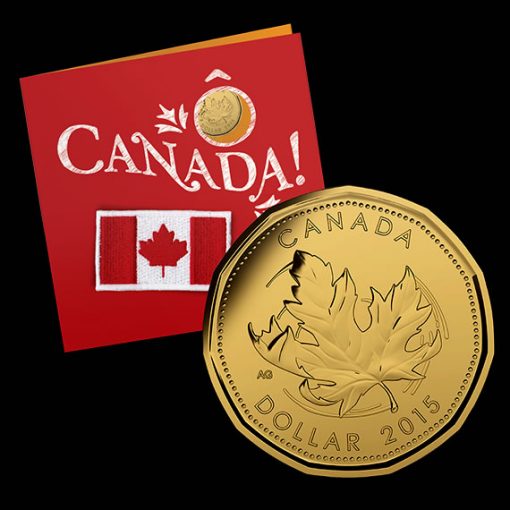 The image, also by artist Ali Giroux, shows an iconic maple leaf. "O Canada" appears on the front of the presentation envelope.
Ordering Details
All four special occasion sets are available from the Royal Canadian Mint's website at www.mint.ca. Here is an affiliate link to the Mint's Gift Ideas page
.