Are you looking for unique gifts for those special occasions this year? The Royal Canadian Mint has you covered with four coin products designed with gift giving in mind.
Now available are 2017-dated Birthday, Baby, Wedding and O Canada Gift Sets. They each include their own specially struck dollar with a reverse design themed to their special occasion, with:
a rocking horse depicted on the Baby Gift Set $1 Coin
two wrapped gift packages on the Birthday Gift Set $1 Coin
two wedding bands and hearts on the Wedding Gift Set $1 Coin
a curling maple leaf on the O Canada Gift Set $1 Coin
Each dollar is available only in their respective gift set. The four sets also include 2017 versions of the Canadian $2, 25¢, 10¢ and 5¢ coins.
"These uncirculated coins with traditional designs have been carefully selected to provide you with the best examples of their kind," the Royal Canadian Mint promotes.
All five coins of the set are attached to an illustrated display folder. An envelope is included with the folder for personalization.
Below are Royal Canadian Mint images of the sets in their opened positions.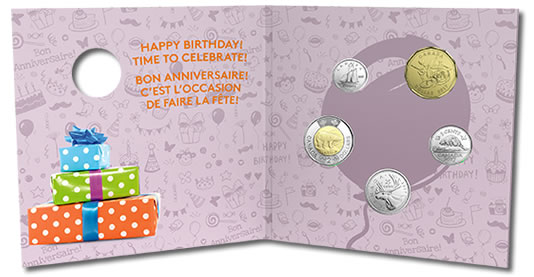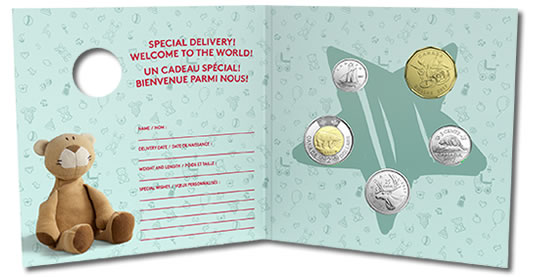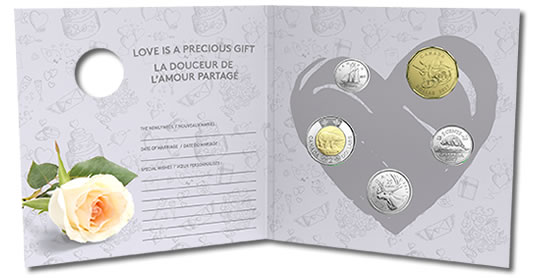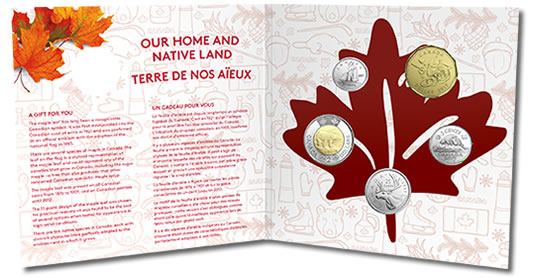 Ordering
Priced at $21.95 each, the 2017 Baby, Birthday, Wedding and O Canada Gift Sets are available directly from the Royal Canadian Mint at mint.ca. An affiliate link to the Mint's special occasion sets is right here.