Designs for the 2016 Ronald Reagan Presidential $1 Coin went under the microscope Thursday as the Citizens Coinage Advisory Committee (CCAC) reviewed candidates and made their recommendation.
Reverses or tails side of all Presidential coinage offer a depiction of the Statue of Liberty while obverses feature a portrait of the president honored. In a lengthened session held Thursday in conjunction with ANA's National Money Show in Portland, the panel of CCAC members looked over and commented on eight proposed Reagan dollar designs.
2016 Reagan $1 Coin Designs and CCAC Recommendation
Artistic renditions of each design offer varying poses of the 40th President of the United States. Candidate designs #1 and #3 drew the most interest. By the end of the discussion, the first design won out among committe members.
"Number 1 is obviously the choice because it's the presidential looking one," Tom Uram declared.
"I felt like number 1 got it done," commented Mike Moran.
"Number 1 for me… when somebody says Reagan, that's the image that brings to my mind," said Jeanne Stevens-Sollman. Number 3 "seems like 90% Reagan and 10% imagination where number 1 is to me 100% Ronald Regan."
A motion was raised and passed to make design #1, shown directly below, the committee's recommendation.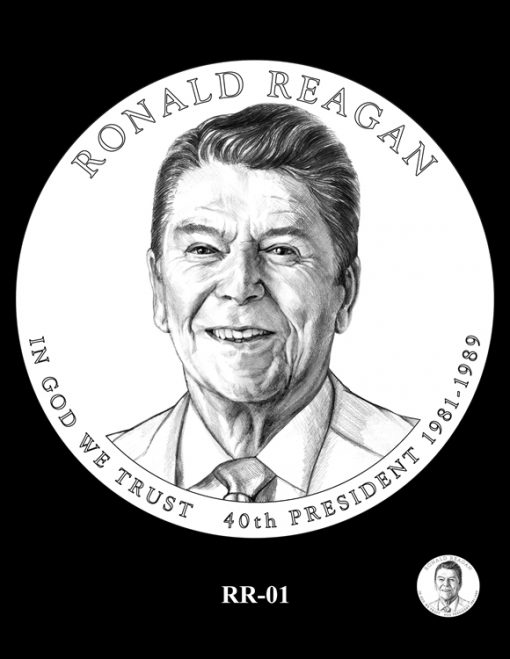 Images of the other designs follow.
Design Candidate RR-02

Design Candidate RR-03

Design Candidate RR-04

Design Candidate RR-05

Design Candidate RR-06

Design Candidate RR-07

Design Candidate RR-08
Inscriptions are the same around each portrait, reading: RONALD REAGAN, IN GOD WE TRUST, 40TH PRESIDENT and 1981-1989 for his years as commander-in-chief.
Background
Since 2007, deceased presidents have been commemorated on $1 coins in the order of their service. Next year marks an end to the series with the commemoration of Richard Nixon, Gerald Ford and Ronald Reagan. They were the 37th, 38th and 40th Presidents of the United States. (See Nixon and Ford $1 coin designs.)
The Presidential $1 Coin Act of 2005, Public Law 109-145, outlines that living former or current Presidents cannot appear on the dollar coins. It was less clear about breaking the sequential order of service. A legal interpretation was made and it was decided that Jimmy Carter, the 39th President, would get passed over to honor Reagan.