More information about the three-coin 2015 March of Dimes Special Silver Set has been revealed. The United States Mint just announced its limits, provided a release date and published an image of the 90% silver set.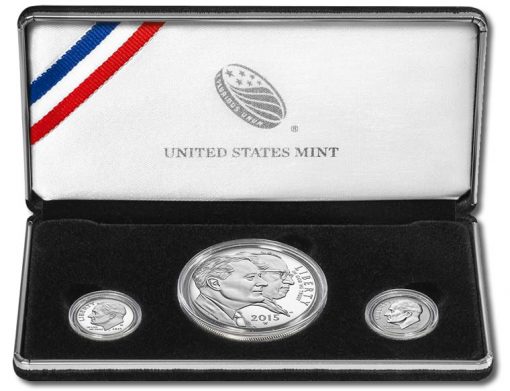 Discussed here last month, the special silver set is one of three U.S. Mint products that will commemorate the 75th anniversary of the March of Dimes Foundation. It will include:
One proof 2015-W March of Dimes Proof Silver Dollar from West Point,
One reserve proof 2015-P Roosevelt Silver Dime from Philadelphia, and
One proof 2015-W Roosevelt Silver Dime from West Point
This is the first time the U.S. Mint has produced a proof silver dime from West Point and a reverse proof silver dime. And these two dimes are only available in the silver set, the Mint stated. All three coins of the set carry a mint mark denoting their production location.
Limits and Release Date
Priced at $61.95, the March of Dimes Special Silver Set has a launch date of noon (ET) on May 4, 2015. The other two products of the commemorative program, the collector proof and uncirculated March of Dimes Silver Dollars, launch next Friday, March 13, 2015.
A product limit of 75,000 sets is in place along with a household ordering limit of 5 sets.
Anyone stopping by the American Numismatic Association's National Money Show in Portland can see sets on display. The show at the Oregon Convention Center ends this Saturday at 4 PM PT.