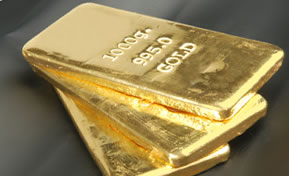 Gold edged higher Friday, extending its win streak to three sessions and notching a weekly gain for the first time in five weeks, but prices still declined sharply for the month of February.
United States Mint bullion coins split on the month with solid demand for silver coins but weakened interest in gold coins. Overall, however, bullion sales slowed from a year ago and, which is normal, from January when the new 2015-dated versions were introduced.
In returning to precious metals, gold for April delivery on Friday rose $3, or 0.2%, to end at $1,213.10 an ounce on the Comex division of the New York Mercantile Exchange. The settlement price marks a two-week high.
Gains were supported by weaker-than-expected economic news, opined analysts. The U.S. gross domestic product expanded at a revised 2.2% annual rate in the fourth quarter, down from the initial 2.6% estimate last month, the Commerce Department said on Friday. That compares to a 5% pace in the third quarter and 4.6% in the second quarter.
"The revision of the GDP to 2.2 versus expected 2.1 helped, so we have some short-covering going on," Reuters quoted George Gero, precious metals strategist for RBC Capital markets in New York. "We may see some higher prices next week."
Personal consumption was also revised lower in the fourth quarter to 4.2%, down from the initially reported 4.3%.
"This response of gold gaining happened after a GDP print that ended up being lower than the previous read, with personal consumption dropping," Bloomberg News quoted Bart Melek, the head of commodity strategy at TD Securities in Toronto. "The combination of the two made people think the economy isn't growing from strength to strength and may be easing up a little bit."
Gold's weekly gained ended at 0.7%, placing its February decline at 5.2% — the most in five months, and trimming its advance on the year so far to 2.4%.
Elsewhere, silver for May delivery shed 7 cents, or 0.4%, to settle at $16.56 an ounce. Silver prices climbed 1.8% on the week to slim losses in February to 3.8% — a first monthly decline since November. Still, silver remains the best performer among precious metals for the year to date with a 6.2% pick up.
In PGM futures on Friday and for the week:
April platinum added $12, or 1%, to $1,185.60 an ounce and rose 1.4% from a week ago.

Palladium advanced for a fifth straight day with the June contract up $8.45, or 1%, to $819.50 an ounce. It surged 5.2% on the week.
In February, platinum tumbled 4.3% while palladium soared 6.1% — the most for a month since July 2013 when it rallied 9.9%. The two metals are also divided on the year so far with platinum down 2% and palladium up 2.6%.
London Fix Precious Metals
London precious metals split on Friday and for the month but climbed on the week. In comparing London bullion Fix prices from Thursday PM to Friday PM:
Gold added $5.75, or 0.5%, to $1,214 an ounce,
Silver fell 29 cents, or 1.7%, to $16.53 an ounce,
Platinum declined $4, or 0.3%, to $1,177 an ounce, and
Palladium lost $5, or 0.6%, to $808 an ounce.
For the week, advances totaled 0.5% for gold, 1.2% for silver, 0.9% for platinum and 3.2% for palladium. In February, palladium surged 4.3% while other bullion fixings logged declines of 3.7% for gold, 2.3% for silver and 3.6% for platinum.
US Mint Bullion Coin Sales in February
United States Mint weekly bullion sales were comparable to a week ago — 7,500 ounces in gold coins versus 8,000 ounces last week and 805,000 ounces in silver coins compared to last week's 772,500 ounces. As for February, CoinNews.net will publish a more detailed analysis later, but in summary:
American Eagle gold coins rose 18,500 ounces for the month, down from 81,000 ounces in January when the new 2015-dated versions debuted and well lower than the 31,000 ounces sold in February 2014.

American Eagle silver coins advanced 3,022,000 in February, down from their debut of 5,530,000 in January and from the same month last year of 3,750,000. This year's 2015 Silver Eagle sales now stand at 8.552 million. In record year 2014 when Silver Eagle sales ended at 44,006,000, the coins had a tad lower total of 8,446,500 by Feb. 27, 2014.

American Buffalo gold coins rose 12,000 for the month, down from sales of 34,500 in January but matching February 2014.

America the Beautiful Five Ounce Silver Bullion Coins climbed 20,000 in February. All sales came from the Homestead silver coin. It debuted on Feb 17 as the first 5 ounce release of the year. Last year, the first 2014-dated 5 ounce coin did not launch until mid-March.
Below are U.S. Mint bullion products with columns listing the number of bullion coins sold during varying time periods.
American Eagle and Buffalo Bullion Sales (# of coins)
Friday Sales
Last Week
Current Week
January Sales
February Sales
YTD Sales
$50 American Eagle Bullion Gold Coins
0
4,500
3,500
51,500
12,500
64,000
$25 American Eagle Bullion Gold Coins
0
0
0
18,000
2,000
20,000
$10 American Eagle Bullion Gold Coins
0
0
0
36,000
0
36,000
$5 American Eagle Bullion Gold Coins
0
5,000
10,000
115,000
50,000
165,000
$50 American Buffalo Bullion Gold Coins
0
3,000
3,000
34,500
12,000
46,500
$1 American Eagle Silver Bullion Coins
59,000
720,000
777,500
5,530,000
3,022,000
8,552,000
2015 Homestead 5 Oz Silver Bullion Coins
0
14,500
5,500
N/A
20,000
20,000