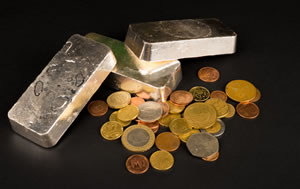 Gold ended lower Friday, slipping from a more than five-month high, but it still logged a 1.2% weekly gain.
Gold for February on Friday declined $8.10, or 0.6%, to settle at $1,292.60 an ounce on the Comex division of the New York Mercantile Exchange.
"Gold was completely dislocated from the dollar yesterday, meaning that euro-gold is the best performing commodity this year, helping dollar gold stay fairly stable around $1,300," Reuters quoted Saxo Bank's Ole Hansen. "But that strength in the dollar is now proving too much."
In weekly movement highlights, gold on Thursday topped $1,300 an ounce for the first time since mid-August and on Wednesday it edged lower for the first time since Jan. 8.
Last week, gold prices jumped 5% for the biggest weekly gain in 1 1/2 years. They have advanced for three straight weeks and are up 9.2% on the year.
Closing lower for the first time in seven sessions, silver for March delivery shed 6 cents, or 0.3%, to settle at $18.30 an ounce. Silver prices still jumped 3.1% on the week. The precious metal has soared $2.70, or 17.3%, since ending 2014 at $15.60 an ounce.
In PGM futures on Friday and for the week:
April platinum fell $16.10, or 1.3%, to $1,268.70 an ounce and dipped 70 cents from a week ago.

Palladium for March delivery added $1.80, or 0.2%, to $774.10 an ounce, but rallied 2.6% on the week.
For the year to date, platinum has gained 4.9% while palladium has lost 3%.
London Fix Precious Metals
London precious metals were mixed on the day but higher on the week. In comparing London bullion Fix prices from Thursday PM to Friday PM:
Gold slipped $1, or less than 0.1%, to $1,294.75 an ounce,
Silver gained 15 cents, or 0.8%, to $18.23 an ounce,
Platinum shed $5, or 0.4%, to $1,274 an ounce, and
Palladium added $1, or 0.1%, to $767 an ounce.
Their weekly advances totaled 1.4% for gold, 7.7% for silver, 1% for platinum and 1.3% for palladium.
US Mint Bullion Coin Sales in January
United States Mint bullion sales slowed from a week ago. Historically, that is more typical for this time in January. Distributors can rely on inventory having already purchased larger-than-normal quantities of a year's newly dated coins right on their release. This year, the 2015 American Eagle and Buffalo gold coins were released on Jan. 5 and the 2015 American Eagle silver coins launched on Jan. 12. Also, the U.S. Mint continues to ration Silver Eagle sales to keep up its own inventory.
In weekly bullion coin sales comparisons:
Silver coins rose by 1,062,000 ounces after advancing 3,701,500 ounces last week when the new 2015 Silver Eagles debuted. Splits this week totaled 1,059,000 ounces in Silver Eagles and 3,000 ounces in America the Beautiful Five Ounce Silver Bullion Coins. Sales of the five ounce coins were muted last week. Silver Eagle sales at 4,760,500 for the month so far are the highest since sales of 5,790,000 in October.

Gold coins rose by just 2,500 ounces after gaining 45,000 ounces in the previous week. Splits were 1,500 ounces in American Gold Eagles compared to 31,000 ounces previously, and 1,000 ounces in American Gold Buffalos compared to 14,000 ounces previously. Gold Eagle sales at 78,500 ounces for the month so far are the highest since January 2014 sales of 91,500 ounces. Likewise, Gold Buffalo sales at 32,500 ounces are the most since January 2014 sales of 41,500 ounces.
Below is a sales breakdown of U.S. Mint bullion products with columns listing the number of bullion coins sold on Friday, last week, this week, in December, last year, and the year to date. Coins with an asterisk (*) have sold out for 2014 with 2015-dated versions yet to be released.
American Eagle and Buffalo Bullion Sales (# of coins)
Friday Sales
Last Week
Current Week
December Sales
2014 Sales
January / 2015 Sales
$100 American Platinum Eagle Bullion Coins*
0
0
0
0
16,900
0
$50 American Eagle Bullion Gold Coins
0
23,500
1,000
13,000
415,500
50,500
$25 American Eagle Bullion Gold Coins
0
5,000
0
0
46,000
18,000
$10 American Eagle Bullion Gold Coins
0
10,000
2,000
6,000
118,000
36,000
$5 American Eagle Bullion Gold Coins
0
25,000
10,000
35,000
565,000
100,000
$50 American Buffalo Bullion Gold Coins
0
14,000
0
4,500
177,500
32,500
$1 American Eagle Silver Bullion Coins
104,500
3,701,500
1.059M
2.459M
44.006M
4,760,500
Great Smoky Mountains National Park 5 Oz Silver Bullion Coins*
0
0
0
0
33,000
0
Shenandoah National Park 5 Oz Silver Bullion Coins
100
0
600
1,100
24,400
600
Arches National Park 5 Oz Silver Bullion Coins*
0
0
0
0
22,000
0
Great Sand Dunes 5 Oz Silver Bullion Coins*
0
0
0
4,000
22,000
0
Everglades 5 Oz Silver Bullion Coins*
0
0
0
7,000
34,000
0