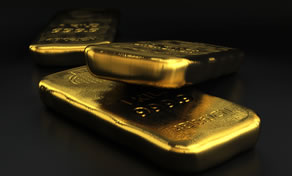 Gold inched lower on Friday but still notched a 1.2% weekly gain, buoyed in recent days by safe-haven demand and a risk-adverse appetite among investors.
Gold for June delivery dipped $1.50, or 0.1%, to settle at $1,319 an ounce on the Comex division of the New York Mercantile Exchange.
Lately, gold has "reacted in various directions to global unrest, economic growth expectations, and monetary-policy jawboning from the world's largest central bank (the Federal Reserve)," MarketWatch quoted Jonathan Citrin, founder and executive chairman of CitrinGroup.
Gold prices advanced in after-hours trading on Wednesday and Thursday following the release of dovish-taken FOMC minutes.
Gold Outlook and YTD Gains
Like last week, a majority of participants in the latest Kitco News Gold Survey see higher prices next week. Fourteen forecast higher gold prices while 4 see them lower and 4 see them to sideways to unchanged.
There is "shifting sentiment on Wall Street with regard to equities versus gold. Last year, to an important extent, gold-price weakness reflected hedge funds and other institutional investors switching from gold, especially gold ETFs, into equities, especially the tech stocks," Kitco News quoted Jeffrey Nichols, managing director, American Precious Metals Advisors. "Now, the momentum is reversing — causing some investors to reallocate, this time reducing their stock-market exposure once again in favor of gold."
U.S. stocks sank this week with the Dow down 2.3%, the S&P off 2.6% and the Nasdaq down 3.1% — the biggest weekly decline since June 2012.
Gold prices this year have climbed $116.70, or 9.7%, above the 2013 closing of $1,202.30 an ounce.
Silver, Platinum and Palladium Futures
Silver ended flat on the week with increases on Tuesday and Thursday erased by losses on Monday, Wednesday and Friday. In ending the week, silver for May delivery shed 15 cents, or 0.7%, to close at $19.95 an ounce.
Platinum extended its winning streak to two sessions and palladium to three, adding to weekly gains totaling 0.8% and 2%. In their daily breakdowns on Friday:
July platinum edged up $2.50, or 0.2%, to end at $1,462.60 an ounce.

Palladium for June delivery jumped $14.50, or 1.8%, to finish at $806.80 an ounce — the highest close since 2011.
For the year so far, the three metals have scored gains of 3% for silver, 6.5% for platinum and 12.3% for palladium. Palladium's increases have come on the back of supply woes and Ukraine-Russian tensions.
"We already have significant problems with production because of the labor strike in South Africa," Bart Melek, the head of commodity strategy at TD Securities in Toronto, said in a telephone interview according to Bloomberg News. Additional sanctions may limit the availability of financing for Russian producers, "impeding the flow of the metal."
Treasury Secretary Jacob J. Lew said on Thursday that the U.S. may impose "additional significant sanctions on Russia if it continues to escalate the situation in Ukraine." Russia is the leading producer of palladium.
London Fix Precious Metals
London precious metals mostly declined Friday with palladium the exception. When comparing the London fix prices from Thursday PM to Friday PM:
Gold fell $2.50, or 0.2%, to $1,318 an ounce,
Silver lost 15 cents, or 0.7%, to $20.09 an ounce,
Platinum dipped $1, or 0.1%, to $1,454 an ounce, and
Palladium added $4, or 0.5%, to $786 an ounce
Each advanced on the week with pick-ups of 1.6% for gold, 0.8% for silver, 0.7% for platinum and 0.6% for palladium.
US Mint Coin Sales in March
U.S. Mint bullion sales this week remained solid for silver coins but slowed for gold coins. Despite the slower week for gold coins, Gold Eagle sales at 17,000 ounces in less than two weeks into the month are only 4,000 away from matching sales in February and Gold Buffalo sales at 10,000 ounces are 2,000 shy of the prior month. For the week-over-week bullion sales comparisons:
In the fifth full week of release following a five-year hiatus, American Platinum Eagles climbed 300 after gaining 800 in the previous week.

Gold coin sales moved up 9,000 ounces, down from last week's strong total of 19,000 ounces. Splits were 6,000 ounces in American Gold Eagles compared to 12,000 ounces previously, and 3,000 ounces in American Gold Buffalo coins versus 7,000 ounces previously.

American Silver Eagle sales rose 1,050,500 against last week's 1,174,000. The coins passed year-to-date sales of 15 million on Tuesday. Since the 99.9% fine silver series started in 1986, only last year logged higher sales through the same time period. Then, the 15 million mark was reached one week earlier. In related coin news, the U.S. Mint released the collectible uncirculated Silver Eagle on Thursday.

America the Beautiful Five Ounce Silver Bullion Coin sales flattened after gaining 2,800 last week. On Monday, the United States Mint launched the collectible version of the five ounce Great Smoky Mountains silver coin, the first of five uncirculated coins for this year.
Below is a sales breakdown across U.S. Mint bullion products with columns offering the number of bullion coins sold on Friday, last week, this week, last month, the month-to-date, and the year-to-date.
American Eagle and Buffalo Bullion Sales (# of coins)
Friday Sales
Sales Last Week
Sales This Week
March Sales
April Sales
YTD Sales
$100 American Platinum Eagle Coins
0
800
300
10,000
600
10,600
$50 American Eagle Gold Coins
0
10,000
3,000
16,000
12,000
112,500
$25 American Eagle Gold Coins
0
1,000
0
2,000
1,000
18,000
$10 American Eagle Gold Coins
0
2,000
8,000
4,000
10,000
52,000
$5 American Eagle Gold Coins
0
10,000
10,000
30,000
20,000
260,000
$50 American Buffalo Gold Coins
0
7,000
3,000
12,000
10,000
75,500
$1 American Silver Eagle Coins
57,500
1,171,000
1,050,500
5,354,000
1,343,500
15,222,500
Great Smoky Mountains National Park 5 Oz Bullion Coins
0
2,800
0
12,400
2,600
15,000