Two U.S. coin rarities wowed the crowd Wednesday in Heritage's Platinum Night auction at the Florida United Numismatists (FUN) show in Orlando. When the hammer fell, each realized more than $2 million. By night's end, the auction tally rang in with sales of more than $26 million.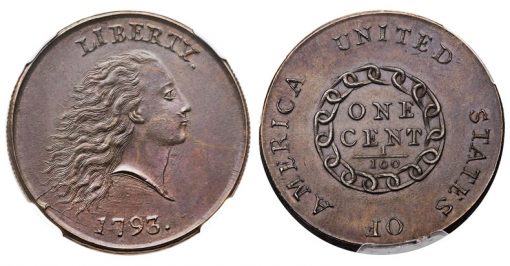 They were led by a 1793 Chain Cent, graded MS66 brown by Professional Coin Grading Service (PCGS) with a CAC sticker. In its first public auction appearance since 1980, the Chain cent "drew gasps and applause" when it realized $2.35 million, according to Heritage.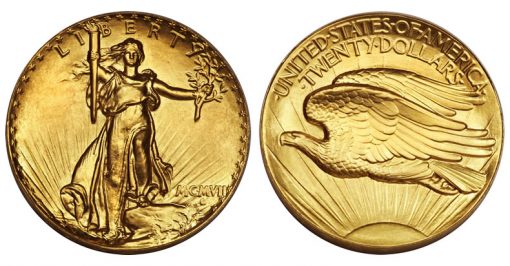 Nearly as spectacular was the sale of a 1907 $20 Ultra High Relief gold piece, graded PR68 by both NGC and PCGS Secure. This rarity was offered for the first time ever at auction and quickly realized $2.115 million.
"Two coins in a single session, of vastly different history and design, both realizing more than $2 million is a stunning result and speaks to the diversity and enthusiasm in the current market," Greg Rohan, President of Heritage Auctions, said.
Several other highlights from Wednesday's Platinum Night auction include:
A 1795 BD-1 Half Eagle MS66, a prime example of the first gold coin design issued by the United States Mint, brought $587,500.
A 1826 Capped Bust Left Half Eagle MS66 PCGS CAC, of the extremely rare BD-2 Variety and the finest of three examples known, realized $564,000.
A 1792 H10C Half Disme MS63 NGC, one of the finest examples known, which brought $305,500.
A 1776 Continental CURRENCY Dollar MS65 PCGS Secure realized $258,500,
An 1884 Double Eagle PR65 Deep Cameo PCGS CAC, the finest of two gem proofs at PCGS, realized $246,750.
A 1795 Small Eagle $5 MS64 NGC, of the rare and important BD-1 Variety, brought $229,125.
Heritage's Thursday's night session at FUN is expected to usher in several $1+ million coins when Part I of the Donald G. Partrick Collection goes under the hammer.
For more information, visit Heritage Auctions at HA.com.