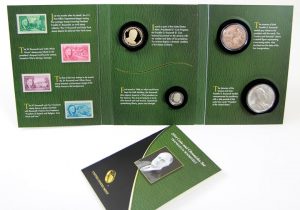 Sales of this year's 2014 Franklin D. Roosevelt Coin & Chronicles Set kicked off much stronger than last year's 2013 Theodore Roosevelt Coin & Chronicles Set.
FDR sets, which include four stamps, two coins and two medals featuring the 32nd President of the United States, launched on Monday, Dec. 22, for $57.95. Sales by Sunday totaled 8,074 sets, according to the U.S. Mint.
Recommended: See photos of the set's bronze and silver medals.
In contrast, it took more than 8 weeks for last year's set of Teddy Roosevelt coins and medals to reach the 8,000 mark. It eventually sold out in August with sales of 15,145.
While priced the same, this year's set has a bit of an advantage over last year's release because it includes one more coin and four U.S. postage stamps. Teddy Roosevelt sets had no stamps to entice the philatelic community.
2014 Franklin D. Roosevelt Coin & Chronicles Sets are available from the United States Mint online page found here. Product sales are limited to 20,000.