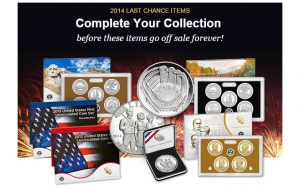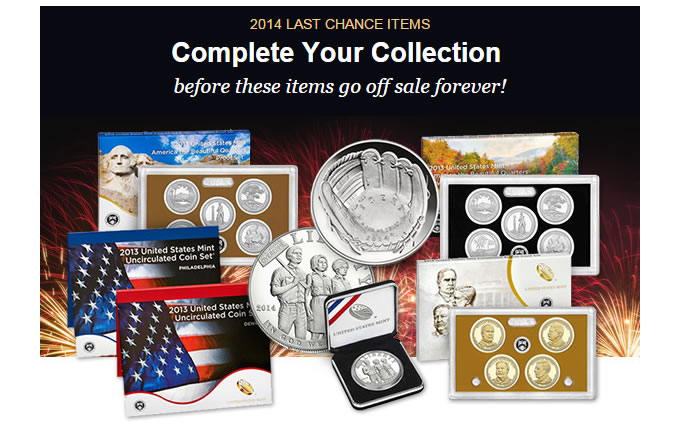 United States Mint deadlines for ordering 2014-dated commemorative coins and major annual sets from 2013 are only hours away.
"With 2015 just around the corner, the close of this year will mark that last time many of our products will be available for purchase from the United States Mint," the agency said in a marketing email sent to customers on Dec. 26. "Don't miss these great opportunities to capture these limited edition products before they go off sale forever," it added.
Very briefly, since we already talked about their ordering deadline around mid-month, few commemorative coins remain and those go off sale at noon ET on Tuesday, Dec. 30. They include the:
2014-P Proof Civil Rights Act of 1964 Silver Dollar for $54.95
2014-S Proof Baseball Hall of Fame Half Dollar for $23.95
2014-D Uncirculated Baseball Hall of Fame Half Dollar for $22.95
2014 Baseball Hall of Fame Young Collectors Set for $24.95
Almost as briefly, given the topic was discussed last week, four 2013-dated annual sets have an ordering deadline of noon ET on Wednesday, Dec. 31. They include the:
2013 Uncirculated Coin Set or Mint Set for $27.95
2013 America the Beautiful Quarters Silver Proof Set for $31.95
2013 America the Beautiful Quarters Proof Set for $14.95
2013 Presidential Dollars Proof Set for $18.95
The 2013 Mint Set is poised to end with the lowest sales for its type in over 50 years. Also, the quarter sets will likely mark new series lows.
United States Mint last chance products are listed online right here.
As some readers have commented, a number of 2013-dated product sales look to continue into 2015. Some include the 2013 First Spouse Gold Coins, the 2013 Congratulations Set, the 2013 Happy Birthday Set, and the 2013 Birth Set.