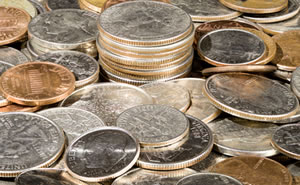 Don't expect U.S. coin compositions to change any time soon, and never for the penny. There are "no alternative metal compositions that reduce the manufacturing unit cost of the penny below its face value," according to the United States Mint 2014 Biennial Report to Congress on the research and development (R&D) of alternative metals for circulating coins.
However, there are alternatives for other denominations that could cut U.S. Mint coin production costs, with one tested alloy rising to the top of the list.
"At this juncture, there are several possible options to alter the metallic compositions that would lower the costs of United States coins, but the Mint does not recommend adopting any of these options until ongoing research is completed on a promising alternative that has the potential to duplicate the weight and EMS [electro-magnetic signature] of existing coinage," the report stated.
Released Dec. 12, the report is the second under the Coin Modernization, Oversight, and Continuity Act of 2010, Public Law 111-302. For the first report released in December 2012, the U.S. Mint had tested 29 different metal compositions. Since then, the Mint trimmed its focus down to six.
Six Metal Formulations Tested
| Material | Composition | Tested On |
| --- | --- | --- |
| Copper-plated zinc (CPZ) | Copper plated on zinc (identical to current one cent) | Nickel |
| Tin-plated CPZ (TPCPZ) | Tin plated on copper plated on zinc | Nickel |
| Nickel-plated steel (NPS) | Nickel plated on low-carbon steel | Nickel, Quarter |
| Multi-ply-plated steel (MPPS) | Nickel plated on copper plated on nickel plated on low-carbon steel | Nickel, Quarter |
| Stainless steel | Austenitic (non-ferromagnetic) stainless steel, monolithic | Nickel |
| 80/20 cupronickel (80/20) | 80 percent copper, 20 percent nickel, monolithic | Nickel |
*80/20 alloy was only tested on the nickel, but was expected to be clad to copper for higher denominations if it passed.
Promising Alternative Composition, Modest Savings
The promising alternative is a mixture of 80 percent copper and 20 percent nickel, a variant of the 75 percent copper and 25 percent nickel composition already used today for 5-cent coins. The Mint describes the 80/20 alloy as a "seamless" material that has "no appreciable impact on the coin-accepting industry." However, the report notes, the 80/20 alloy results in only modest savings of about 3% ($5.0 million annually using 2014 production volumes).
Out of the other five metal compositions tested, only the steel-based coins demonstrated acceptable wear characteristics. They offered higher savings as well, in the range of 15-20% (about $57 million annually) compared to 2014 costs. However, steel-based coins significantly lower die life and could increase production and labor costs. Also, the savings are outweighed by too many other negatives. According to the report:
"These steel-based alternatives require the coin stakeholder industry to make changes to recognize both new and existing coin characteristics because the two types of coins would co-circulate. Significantly, the EMS range for these steel-based compositions introduces the potential use of low-value steel coins from other countries in coin acceptance machines in lieu of higher value United States denominations, particularly the quarter."
Since 2012, the U.S. Mint greatly increased its outreach to those who could be impacted by the use of alternative coin metals.
"This year's report also reflects the tremendous effort we made to reach out to our stakeholders-the many industries, associations and entities-that rely on circulating coins for their business operations," said Richard Peterson, Deputy Director of the Mint. "Obtaining their input was critical."
According to the report, any change to the weight, shape, and electro-magnetic signature used to validate current circulating coins would require equipment changes that could potentially cost stakeholders between $2.5 billion and $6 billion.
"Many stakeholders asked that we consider the significant cost to the industry compared with the projected government savings achieved by manufacturing circulating coins with an alternative metal composition."
Stakeholders strongly recommended no change to the quarter.
Current Costs to Make and Distribute Pennies, Nickels, Dimes and Quarters
United States Mint costs decreased for all denominations in FY 2014 compared to last year as production totals jumped and metal prices fell for nickels, dimes and quarters. U.S. Mint production and distribution costs by denomination include:
1.66 cents per penny,
8.09 cents per nickel,
3.91 cents per dime, and
8.95 cents per quarter
U.S. Mint circulating coin shipments to Federal Reserve Banks in FY 2014 increased by 2.3 billion units, or 21.9%, to a total 13.0 billion coins compared to the prior year. America the Beautiful Quarters saw a marked 58.5% increase in shipments, which drove increases in both revenues and seigniorage for the Mint. Seigniorage is the difference between the face value of coins and the cost to produce and distribute them.
According to the Mint's report, its FY 2014 circulating revenue was $783.0 million, or 35.5% higher than the $578.0 million from the previous year. Seigniorage was $289.1 million, or 110.4% higher.
The full U.S. Mint 2014 Biennial Report to Congress is available here.