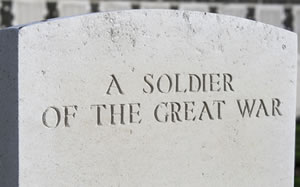 On Tuesday, Dec. 2, the United States House of Representatives passed the World War I American Veterans Centennial Commemorative Coin Act.
The bill, numbered H.R.2366, calls for up to 350,000 silver dollars in year 2018 to celebrate the 100th anniversary of the signing of the armistice with Germany ending World War I battlefield hostilities.
Introduced in June 2013, H.R.2366 garnered 302 cosponsors and passed by an overwhelming bipartisan vote of 418 to 3.
"By requiring the Secretary of the Treasury to mint coins to commemorate the centennial, this bill would allow us to honor the memory, service and sacrifice of the brave veterans of World War I, while providing the means to pay tribute to the end of World War I battlefield hostilities," said Congressman Doug Lamborn of Colorado who introduced the legislation.

"Other great conflicts, including the Civil War, World War II, the Korean War, and the Vietnam War, have all been memorialized on United States commemorative coins, but no such honor has been extended to the brave veterans of World War I."
Lamborn noted that 2014 marks the 100th anniversary of the start of World War I and that passing the bill this year would be "very fitting."
If H.R.2366 passes in the Senate and gets signed by the President, the United States Mint will strike the commemorative silver dollars in collector qualities of proof and uncirculated with designs emblematic of the centennial of America's involvement in World War I.
Silver commemorative coins are composed from 90% silver and 10% copper with a weight of 26.73 grams and diameter of 1.500 inches. WWI Centennial Commemorative Coins would include the year 2018, their value, and standard inscriptions of 'Liberty', 'In God We Trust', 'United States of America' and 'E Pluribus Unum'.
A similar bill, S.2714, was introduced in the Senate in July 2014. It has sat in the Committee on Banking, Housing, and Urban Affairs without action. There were also a previous measure in 2012 which failed to become law.
H.R.2366 and S.2714 call for a $10 surcharge to the sale price of each coin. Collected funds would be forwarded to the World War I Centennial Commission. The commission is tasked with planning and executing activities to commemorate the centennial of World War I. In the event that there is a balance of funds from surcharges received after the termination of the Commission, they would be transferred to the general fund of the Treasury.