A new product from the United States Mint aims to introduce younger generations to the joys of coin collecting.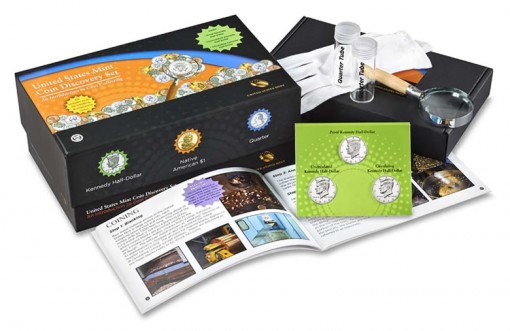 Featuring coins in three different finishes, coin collecting supplies and a booklet describing how coins are made, the U.S. Mint's Coin Discovery Set launches on Dec. 16, 2014 for $24.95.
New images released today from the Mint reveal that the set is an attractive offering. The coin hobby could use an infusion of young blood and products like these can inspire interest in collecting. I really like it, just not its timing.
Unfortunately, the set's late release may curb seasoned collectors from buying them as a stocking stuffer for this Christmas. Older collecting folks like us tend to plan a bit more, having learned to avoid the mayhem and possible pitfalls of last-minute shopping. It would have been nice to see this set released in November or early this week. I'd have bought at least a dozen, throw in a few different coins for variety, and give sets to all my nieces and nephews for Christmas.
United States Mint Coin Discovery Sets include:
A proof 2014 Kennedy Half-Dollar stuck at the San Francisco Mint with a S mint mark
An uncirculated 2014 Kennedy Half-Dollar stuck at the Philadelphia Mint with a P mint mark
A circulating-quality 2014 Kennedy Half-Dollar stuck at the Denver Mint with a D mint mark
An educational booklet explaining the coin production process and the different coin finishes
25-cent coin tubes
A magnifying glass
Cotton gloves
Also, the set's box is designed to store any of the Mint's proof sets.
These sets are limited to 45,000. More information is available through the U.S. Mint product page found here.