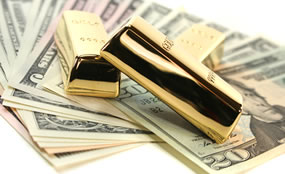 Gold, silver and platinum finished lower this week, for the first time in three, while palladium extended its weekly winning streak to two in a row.
Aside from gold, precious metals in November moved in the same direction as they did on Friday and this week. Down for a second straight session, gold for February delivery tumbled $22, or 1.8%, to settle at $1,175.50 an ounce on the Comex division of the New York Mercantile Exchange. Losses were largely attributed to a stronger U.S. dollar and weakened oil prices.
"Precious metals declined as lower oil prices prompted concerns about deflation," Reuters quoted ANZ analyst Victor Thianpiriya.
"There was a selloff in crude oil and the dollar rallied, and there's a question of disinflation here," Bart Melek, the head of commodity strategy at TD Securities in Toronto, said in a telephone interview according to Bloomberg News. "One of the motives to buy gold is to hedge against inflationary pressure, and we've got the opposite."
Gold prices dropped 1.9% on the week, edged up 0.3% in November and are off on the year to date by 2.2%.
Gold Outlook
Results of the latest Kitco News gold survey weigh bearish for the precious metal. Kitco reports:
"Most participants in Kitco News' weekly gold survey said they look for softer prices next week since a Swiss gold referendum is expected to fail and the dollar has been strong while crude oil has been soft."

"In the Kitco News Gold Survey, out of 36 participants, 19 responded this week — fewer than usual during the U.S. Thanksgiving week. Five see prices up, while 11 see prices down and three see prices sideways or unchanged."
Last week, and after five straight weeks of pessimistic-leaning results, the Kitco gold survey was bullish overall with splits of 14 up, 6 down, and 3 sideways or neutral.
Silver, Platinum and Palladium Futures
Elsewhere in metals, silver for March delivery plunged $1.05, or 6.3%, to close at $15.56 an ounce. Silver prices plummeted 5.1% on the week, fell 3.4% in November and have given up 19.7% since the end of 2013.
In PGM future prices on Friday and for the week:
January platinum declined $17.10, or 1.4%, to $1,211.30 an ounce, falling 1.3% from a week ago.

Palladium for March delivery tacked on $10.80, or 1.4%, to $813.30 an ounce, advancing 2.3% on the week.
In November, platinum fell 1.9% while palladium jumped 2.7%. For the year so far, platinum has dived 11.8% but palladium has surged 13.2%.
London Fix Precious Metals
London precious metals were mixed on the day, week and month. When comparing London bullion Fix prices from Thursday PM to Friday PM:
Gold fell $12, or 1%, to $1,182.75 an ounce,
Silver declined 45 cents, or 2.7%, to $15.97 an ounce,
Platinum dropped $14, or 1.1%, to $1,205 an ounce, and
Palladium added $5, or 0.6%, to $809 an ounce
For the week, palladium also advanced, up 1.9%, while other London metals precious registered losses of 1.7% for gold and 2% for both silver and for platinum. In November, gold gained 1.6% and palladium rose 3.2% while silver fell 1.4% and platinum turned down 1.8%.
US Mint Bullion Coin Sales in November
U.S. Mint bullion sales are yet to close officially for November, though they are not expected to change. CoinNews.net will publish a more detailed analysis later, but in summary:
American Eagle gold coins climbed 60,000 ounces in November, the third highest monthly amount this year yet down from sales of 67,500 ounces in October. Sales in 2014 are at 506,500 ounces, which is well shy of the 800,500 ounces sold during the first eleven months in 2013.

2014 American Eagle silver coins turned up 3,426,000 in November after the prior month's pick up of 5,790,000 (the highest for a month since January 2013). Of note, the coins were unavailable from Nov. 6 until Nov. 17 as the Mint's supply sold out and inventory needed to be rebuilt. They returned on the 17th but under an allocated basis where the Mint limits how many are sold. Silver Eagle sales for the year to date are at 41,547,000, the quickest pace in the coin's 29-year history. American Silver Eagle sales in record year 2013 hit 41,475,000 through November 2013.

American Buffalo gold coins gained 12,500 after soaring 21,000 in October, the most since January.

2014 America the Beautiful Five Ounce Silver Bullion Coins added 29,600 in November after rising 5,100 in the prior month. The bulk of the increase came from new Everglades coins which launched on Nov. 3.

2014 American Platinum Eagle sales ended on Oct 1. The Mint will begin selling 2015-dated Platinum Eagles in early January.
Below is a sales breakdown of U.S. Mint bullion products with columns listing the number of bullion coins sold on Friday, last week, this week, in November and the year to date. Coins with an asterisk (*) have sold out.
American Eagle and Buffalo Bullion Sales (# of coins)
Friday Sales
Last Week
Current Week
October Sales
November Sales
YTD Sales
$100 American Platinum Eagle Bullion Coins*
0
0
0
400
0
16,700
$50 American Eagle Bullion Gold Coins
1,500
2,500
7,500
57,500
49,000
402,500
$25 American Eagle Bullion Gold Coins
3,000
1,000
3,000
6,000
8,000
46,000
$10 American Eagle Bullion Gold Coins
0
2,000
2,000
8,000
12,000
112,000
$5 American Eagle Bullion Gold Coins
0
0
10,000
50,000
40,000
530,000
$50 American Buffalo Bullion Gold Coins
0
3,000
1,500
21,000
12,500
173,000
$1 American Eagle Silver Bullion Coins
118,500
1,429,500
736,500
5,790,000
3,426,000
41,547,000
Great Smoky Mountains National Park 5 Oz Silver Bullion Coins*
0
0
0
0
0
33,000
Shenandoah National Park 5 Oz Silver Bullion Coins
0
500
0
900
900
23,300
Arches National Park 5 Oz Silver Bullion Coins*
0
0
0
0
0
22,000
Great Sand Dunes 5 Oz Silver Bullion Coins
0
1,100
0
4,200
1,700
17,900
Everglades 5 Oz Silver Bullion Coins
0
5,000
0
N/A
27,000
27,000