The last of three United States Mint products to celebrate the semicentennial of the Kennedy half-dollar launches today at noon EDT for $99.95. With four silver coins in four different finishes and from each of the four U.S. Mint production facilities, this latest release is expected to quickly outsell the other two anniversary products combined.
Officially dubbed the 50th Anniversary Kennedy 2014 Half-Dollar Silver Coin Collection, encapsulated and held within its embossed faux leather folder are:
2014-W Reverse Proof Kennedy Silver Half-Dollar
2014-P Proof Kennedy Silver Half-Dollar
2014-S Enhanced Uncirculated Kennedy Silver Half-Dollar
2014-D Uncirculated Kennedy Silver Half-Dollar
Designated mint marks by the dates correspond to the coin's production facility in West Point, Philadelphia, San Francisco and Denver. To know where a coin was made, look for its mint mark below the portrait of Kennedy.
Original 1964 Designs
Kennedy half-dollars debuted in 1964 with designs bearing Gilroy Roberts' portrait of President John F. Kennedy and Frank Gasparro's rendition of the Presidential Seal. Reverses have remained unchanged over the years but Kennedy's portrait was modified significantly in the 1990s.
Keep that in mind because the United States Mint has produced 13 different half-dollars in 2014. Six are standard annual issues and carry the modified or "modern" portrait of Kennedy. The other 7 are unique to this year, are only sold within 50th Anniversary Kennedy products, and only they feature a restored 1964 Kennedy portrait.

Unique Coin Finishes
Two of the four coins in the collection are more unique because of their finishes. The reverse proof swaps the characteristics of standard proofs by having mirror-like raised elements contrast against flat frosted fields.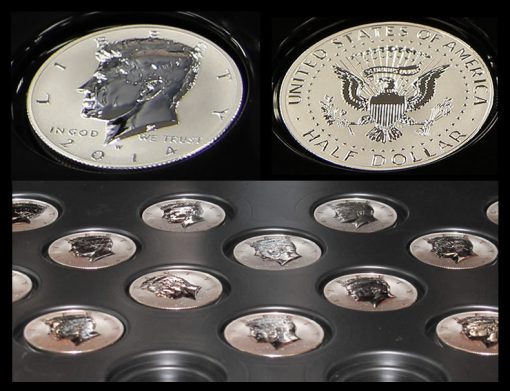 The enhanced uncirculated coin includes special wire brushing techniques, varying levels of laster frosting and laser polishing.
CoinNews discussed the coin's special enhancements a few days ago, and this graphic summarizes them again:
Limits, Melt Value and Coin Specifications
There are some recent U.S. Mint-imposed restrictions to sales of the collection, including a 300,000 product limit and a household order limit of five.
Coins are struck in 10% copper and 90% silver, bringing the collection's silver weight to 1.44 troy ounces. At the London silver price on Monday of $17.18 an ounce, each half-dollar has a melt value of $6.19. And based on the $99.95 price of the collection, each coin's premium above melt is $18.82.
Half-dollars have a diameter of 1.205 inches and weigh 12.500 grams.
Ordering
50th Anniversary Kennedy 2014 Half-Dollar Silver Coin Collections may be ordered online from the Mint here, or by calling 1-800-USA-MINT (872-6468).
Along with the coins and folder, the product ships with a certificate of authenticity and a booklet about the development and design of the half-dollars. As shown in the packaging image, coins are positioned to show their obverse. The back of each coin can is visible only by removing the capsule from the packaging.
Related Articles
For additional background, three past CoinNews' articles that relate to this collection are:
Other 50th Anniversary Kennedy Half-Dollar Products
Two other anniversary half-dollar products have been released by the Mint this year. They include:
50th Anniversary Kennedy 2014 Half-Dollar Gold Proof Coin on Aug. 5
50th Anniversary Kennedy 2014 Half-Dollar Uncirculated Coin Set on July 24.
The first, priced at $1,202.50, is a dual-dated 1964-2014 coin struck in 24-karat gold. The second, priced at $9.95, includes a clad 2014-P Kennedy half-dollar from Philadelphia and a clad 2014-D Kennedy half-dollar from Denver. The latest U.S. Mint sales figures as of Oct. 19 have the gold coin at 64,303 units and the two-coin clad set at 134,631 units.
Here's a grid listing some of the essentials of all 2014-dated Kennedy coins:
Thirteen 2014 Kennedy Half-Dollars
Unique to 50th Anniversary
Associated Product
Composition
Product Limit
Release Date
2014-W Proof Gold 50c
Yes, original 1964 portrait
Individually Sold
.9999 Gold
None
Aug. 5
2014-P Proof Silver 50c
2014 Kennedy Silver Coin Collection
90% Silver, 10% Copper
300,000
Oct 28
2014-W Reverse Proof Silver 50c
2014-D Uncirculated Silver 50c
2014-S Enhanced Uncirculated Silver 50c
2014-P Uncirculated Clad 50c
2014 Kennedy Two-Coin Clad Set
8.33% Nickel, Balance Copper
200,000
Jul 24
2014-D Uncirculated Clad 50c
2014-S Proof Silver 50c
No, regular annual issue
2014 Silver Proof Set / 2014 Limited Edition Silver Proof Set
90% Silver, 10% Copper
None
Apr 29 / TBD
2014-S Proof Clad
2014 Proof Set
8.33% Nickel, Balance Copper
None
Mar 25
2014-P Uncirculated Clad 50c
2014 Mint Set
None
May 13
2014-D Uncirculated Clad 50c
2014-P Circulating Quality Clad 50c
2014 Kennedy 50c Rolls and Bags
None
Feb 13
2014-D Circulating Quality Clad 50c