Odyssey Marine Exploration (www.shipwreck.net) has revealed its latest haul of gold coins, gold nuggets, silver pieces, bullion bars and other artifacts from the shipwreck site of the SS Central America.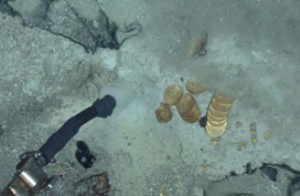 The company said the bounty marks the end of five-months of operations and that Odyssey Explorer, the recovery ship, needed to return for necessary repairs and installation of new equipment.
As part of the recovery operations, Odyssey Explorer completed a 161,000-square-meter, high-resolution video survey of the SS Central America shipwreck and surrounding seabed. The video will be used as a planning aid for future operations.
"The recovery and survey work we completed on the site over the last 60 days has dramatically increased our knowledge of the extent and orientation of this wreck site," commented Mark Gordon, Odyssey's president and COO. "We hope to return to the Central America site before the end of the 2015 season depending on conclusions drawn from the analysis that will be completed over the next several months."
Due to the time taken to conduct the survey and because of weather disturbances caused by Hurricane Cristobal, Odyssey said its latest haul was "reduced from prior periods." An overview of the items recovered from Aug. 16 through to Sept. 15 include:
| | |
| --- | --- |
| Quantity | Item |
| 2 | Foreign Silver Coin |
| 2 | Unattributed Silver Coin |
| 2 | $0.01 Copper Coin |
| 1 | $0.25 Gold Coin |
| 1 | $0.50 Gold Coin |
| 3 | $1.00 Gold Coin |
| 4 | $2.50 Gold Coin |
| 5 | $5.00 Gold Coin |
| 1 | $10.00 Gold Coin |
| 22 | $20.00 Gold Coin |
| 2 | $0.03 Silver Coin |
| 1 | $0.05 Silver Coin |
| 1 | $0.25 Silver Coin |
| 2 | Gold Dust/Nugget Deposit |
| 8 | Gold Jewelry |
| 2 | Jewelry |
| 47 | Misc. Artifact |
So far this year, over 15,500 gold and silver coins, 45 gold bars and hundreds of gold nuggets have been recovered from the site which is more than 2,200 meters (7,200 feet) below the surface. Additional items retrieved from the shipwreck include gold dust, jewelry and other artifacts of historical significance. (See operational reports.)
SS Central America was an 85-meter (280-foot) wooden-hulled, copper-sheathed, three-masted side-wheel steamship that launched originally in 1853 as the SS George Law. During the California gold rush, it ran the Atlantic leg of the Panama Route between New York and San Francisco. It sunk 160 miles off the coast of South Carolina during a hurricane on Sept. 12, 1857.
The location of the shipwreck was officially confirmed in September 1988. From 1988 through 1991, a large quantity of commercial gold was recovered from a small portion of the site. In 2014, Odyssey was awarded the exclusive contract to conduct an archaeological excavation and recover the remaining cargo. Under the terms of the contract, the company receives 80% of recovery proceeds until a fixed fee and a negotiated day rate are paid. Following that, the company retains 45% of the proceeds.
A deep-sea reconnaissance dive by Odyssey in April yielded nearly 1,000 ounces of gold in coins and ingots, including an 1857 $20 Double Eagle minted in San Francisco and one from 1850 minted in Philadelphia. When it sank, the Central America was listed as carrying a large consignment of gold for commercial parties and freshly minted U.S. $20 Double Eagle coins.