A deep-sea reconnaissance dive undertaken by Odyssey Marine Exploration (www.shipwreck.net) proved fruitful yet again with nearly 1,000 ounces of gold in coins and ingots.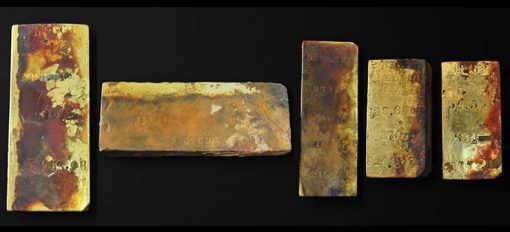 Included in the recovery were five gold ingots and two 19th century Coronet Head $20 Double Eagle coins, among other artifacts. The items were brought up from the ocean floor during Odyssey's first reconnaissance dive to the SS Central America shipwreck site on April 15, 2014.
The SS Central America originally launched as the SS George Law in 1853. It was an 85-meter (280-foot) wooden-hulled, copper-sheathed, three-masted side-wheel steamship that operated on the Atlantic leg of the Panama Route between New York and San Francisco during the California Gold Rush. It was caught in a hurricane and sank on Sept. 12, 1857 with a large amount of gold about 160 miles off the coast of South Carolina.
This is not the first deep-sea exercise of the shipwreck site. Initial Central America recovery operations were conducted between 1988 and 1991. In over 1,000 hours of underwater maneuvers, a significant amount of gold was recovered from about 5% of the shipwreck site.
Now, Odyssey has been brought in to continue the recovery. The two-hour initial exploration last month was undertaken by Odyssey's research vessel, the Odyssey Explorer, as it was en route from the United Kingdom to Charleston, South Carolina.
The recent events follow ten years of litigation, after which it was ruled that Columbus-American Discovery Group LLC (CADG) owned 92.5% of the recovered gold. CADG is an agent for Recovery Limited Partnership (RLP) whose receiver signed a contract with Odyssey for the operations. Aboard during the initial exploration were Recovery Limited Partnership (RLP) director of operations Craig Mullen and RLP chief scientist/historian Bob Evans. Evans served as chief scientist, historian and later as curator for the initial Central America recovery operations conducted two decades ago.
The main goal of the initial exploration was to assess the current condition of the site.
"This dive confirms for me that the site has not been disturbed since 1991, when I was last there," said Bob Evans chief scientist/historian for RLP.
Odyssey will continue its operations on the SS Central America shipwreck site. Under the terms of the contract, Odyssey will receive 80% of recovery proceeds until a fixed mobilization fee and a negotiated day rate are paid. Following that, 45% of the recovery proceeds go to Odyssey.
For coin enthusiasts, the two gold coins included an 1857 $20 Double Eagle minted in San Francisco and one from 1850 minted in Philadelphia. The five gold ingots ranged in weight from 96.5 to 313.5 troy ounces.