New from the Bureau of Engraving and Printing (BEP) is the 2014 Coast Guard Intaglio Print, the fifth and final card from the Defenders of Freedom series. Each of the prior prints sold out.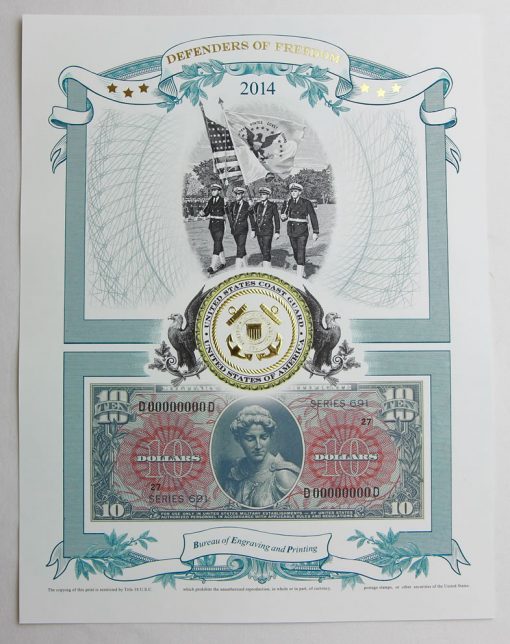 This year's series celebrates the five branches of the U.S. Armed Forces — Army, Navy, Marines, Air Force and Coast Guard.
"The 'Coast Guard' print features an exquisite compilation of unique engraved vignettes focusing on the age-old art of intaglio printing," describes the BEP.
Called the 2014 Intaglio Print Defenders of Freedom Coast Guard, it measures 8 1/2" x 11" and is $22.50. This last Defenders of Freedom print features three major decorative elements — two vignettes and a seal. Descriptions of the vignettes follow.
Top and centered is the vignette U.S. Coast Guard Academy (Miscellaneous Die #16821). Engraved by Richard M. Bower in 1954, the vignette is a rendering of an original photograph furnished by the Coast Guard and retouched by designer Charles R. Chickering.

Bottom and centered is the vignette Female Head (Miscellaneous Die #7106). Engraved by G.F.C. Smillie in 1908, the vignette features the face design of the Series 541 $10 MPC note issued in May 1958 and withdrawn in May 1961.
Separating the top and bottom vignettes, printed in offset and embossed in gold foil is the seal of the United States Coast Guard. A banner towards the card's top has the words: DEFENDERS OF FREEDOM while one near the bottom reads: Bureau of Engraving and Printing.
Ordering
2014 Coast Guard Intaglio Prints are available directly from the Bureau of Engraving and Printing. The BEP's online store is at www.moneyfactorystore.gov.
Past Intaglio Prints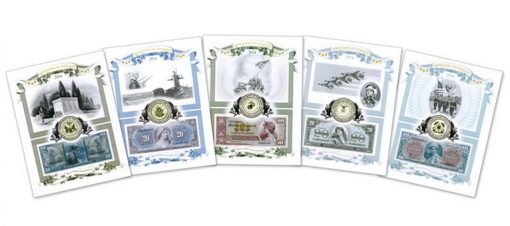 Past Intaglio Prints in the Defenders of Freedom series include:
Army launched on February 27, 2014
Navy launched on April 14, 2014
Marines launched on June 16, 2014
Air Force launched on Aug. 5, 2014
About the BEP
While the Bureau of Engraving and Printing makes and sells detailed intaglio prints and engravings, it is best known for producing United States currency. The bureau prints billions of Federal Reserve Notes each year for delivery to the Federal Reserve System. These notes are produced at facilities in Washington, DC, and Fort Worth, TX.