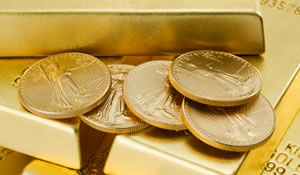 Gold turned lower Friday but still scored a solid weekly gain, its fifth in six weeks. Other precious metals also advanced on the week.
Gold for August delivery on Friday shed $1.80, or 0.1%, to settle at $1,337.40 an ounce on the Comex division of the New York Mercantile Exchange. Gold prices rallied 1.3% on the week after slipping 0.1% last week before the Fourth of July extended weekend. Gains this week were attributed to several factors.
"The media is battling to assert that it was either the conflict in Israel, the problems at the 'Holy Spirit' [Espirito Santo] bank in Portugal…or 'safe haven' demand from other quarters" that have contributed to the recent gains in gold, MarketWatch quoted Julian Phillips, founder of and contributor to GoldForecaster.com.

But the "reality is that the gold price is buoyant in a 'flowing' tide and should continue to be so in the days and weeks ahead," he said in a note. "All of the problems that are being quoted as the cause for gold's rise are actually combining to show this world has a very uncertain and potentially volatile future particularly in the monetary sphere."
On Thursday, the precious metal settled at an almost four-month high. Gold prices have rallied $135.10, or 11.2%, since ending 2013 at $1,202.30 an ounce.
Gold Outlook
Participants in the latest Kitco News survey are bullish for gold next week. Seventeen expect prices to rise, 6 see prices lower and 2 see prices trading sideways or are neutral. Kitco News reports that:
"Many of those who forecast higher prices next week cite both firm technical chart patterns or expect that gold will hold a geopolitical premium… Those who see weaker prices said if the U.S. dollar strengthens, gold will retreat…"
Kitco News gold survey results last week were mixed with expectation splits of 7 up, 8 down and 3 sideways or are neutral.
Silver, Platinum and Palladium Futures
In the Friday and weekly breakdowns for other precious metals:
Silver for September delivery declined 5 cents, or 0.2%, to $21.46 an ounce, but traded 1.5% higher on the week.

October platinum dipped $3.20, or 0.2%, to $1,513.80 an ounce, yet edged up 0.4% from a week ago.

Palladium for September delivery climbed $1.70, or 0.2%, to $875.30 an ounce and gained 1.6% on the week.
For the year to date, the metals have logged increases of 10.8% for silver, 10.2% for platinum and 21.9% for palladium.
London Fix Precious Metals
London precious metals gained on the week as well but mostly declined on Friday with a string of 0.4% losses for gold, silver and platinum. When comparing the London bullion fix prices from Thursday PM to Friday PM:
Gold lost $5.25 to $1,335 an ounce,
Silver shed 9 cents to $21.42 an ounce,
Platinum fell $6 to $1,506 an ounce, and
Palladium added $1, or 0.1%, to $867 an ounce
On the week, advances tallied to 1.2% for gold, 1.4% for silver, 0.2% for platinum and 0.1% for palladium.
US Mint Bullion Sales in July
Sales of United States Mint bullion coins slowed compared to last week. In the latest week-over-week comparisons:
Gold coin sales gained 7,500 ounces after advancing 11,000 ounces last week. Splits were 5,500 ounces in American Gold Eagles versus 9,500 ounces previously and 2,000 ounces in American Gold Buffalos after 1,500 ounces previously.

American Silver Eagles moved up 360,000 following the past seven smaller-than-typical weekly gains of 395,000; 447,000; 580,000; 675,000; 670,000; 300,000; and 426,500. Until a few weeks ago, sales were on pace for a new annual record.

America the Beautiful Five Ounce Silver Bullion Coins climbed by 500 coins, or 2,500 ounces, after last week's negative adjustment of 800 coins or 4,000 ounces.

Sales of American Platinum Eagles were flat for a fourth straight week. The coins are now in their 17th full week of release after a five-year hiatus.
Below is a sales breakdown of U.S. Mint bullion products with columns listing the number of bullion coins sold last week, this week so far, last month, the month to date, and the year to date.
American Eagle and Buffalo Bullion Sales (# of coins)
Friday Sales
Sales Last Week Sales
Week-To-Date
June Sales
July Sales
YTD Sales
$100 American Platinum Eagle Bullion Coins
0
0
0
700
0
12,900
$50 American Eagle Bullion Gold Coins
0
7,500
5,500
43,000
11,000
209,500
$25 American Eagle Bullion Gold Coins
0
2,000
0
2,000
0
27,000
$10 American Eagle Bullion Gold Coins
0
0
0
4,000
0
72,000
$5 American Eagle Bullion Gold Coins
0
10,000
0
35,000
5,000
365,000
$50 American Buffalo Bullion Gold Coins
0
1,500
2,000
16,000
2,500
114,000
$1 American Eagle Silver Bullion Coins
0
395,000
360,000
2,692,000
435,000
24,563,500
Great Smoky Mountains National Park 5 Oz Silver Bullion Coins
0
0
0
2,000
0
29,000
Shenandoah National Park 5 Oz Silver Bullion Coins
0
0
0
900
0
20,000
Arches National Park 5 Oz Silver Bullion Coins
0
-800*
500
18,500
500
19,000
*On Monday, June 30, the U.S Mint reduced sales of Arches silver coins.