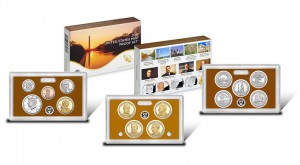 Sales ended this week for the 2013 Proof Set. The United States Mint tagged the set's product page with "sold out" and added it to the "No Longer Available" section of its website.
The latest figures place its sales at 802,328. Having been around since Mar. 28, 2013 and collectors clearly focused on newer products, the proof set hasn't been gaining much traction lately. Its weekly sales have averaged 249 units since mid-June.
Last year's set holds 14 clad coins produced to proof quality at the U.S. Mint at San Francisco. These sets are annually issued, and always strong sellers because they have a year's coinage to include the Lincoln cent, Jefferson nickel, Roosevelt dime, five America the Beautiful Quarters, Kennedy half-dollar, four Presidential $1 Coins and Native American $1 Coin. They are considered one of the Mint's core annual products with the others being the annual Silver Proof Set and uncirculated Mint Set. The 2013 Silver Proof Set sold out in February.
The popularity of annual sets has receded in recent years, although orders for the 2013 Proof Set topped those from 2012. That set logged the weakest sales since 1956 and is, as a result, selling in the secondary market for more than three times the Mint's issue price.
Here is a table of sales figures for recent sets:
Sales of 2008 – 2014 Proof Sets
Year
Issue Price
Coins
Sales
2014
$31.95
14
402,974
2013
802,328
2012
794,002 / Final
2011
1,098,835 / Final
2010
1,103,950 / Final
2009
$29.95
18
1,477,967 / Final
2008
$26.95
14
1,405,674 / Final
Sales of 2013 Proof Set are expected to fluctuate slightly in the coming weeks as the Mint reports adjusted figures that will include final additions as well as returns and cancellations.
This year's 2014 Proof Set launched on Mar. 25, 2014. It is available from the U.S. Mint's online catalog at www.usmint.gov/catalog or by calling 1-800-USA-MINT (872-6468).