The Royal Canadian Mint is accepting orders for its limited-edition 2014 $200 Towering Forests Silver Coin, the first release from the Landscapes of the North series of $200 silver coins that sell at face value.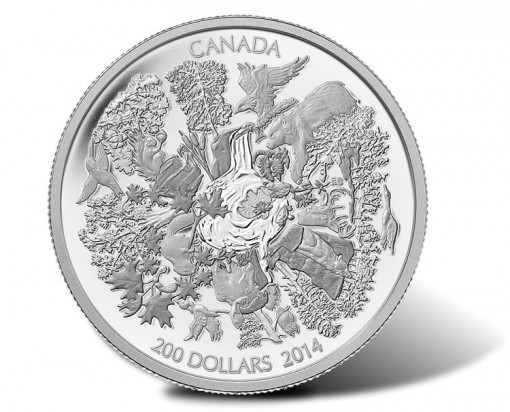 Composed in 2 ounces of 99.99% fine silver, this coin is not only the first in a new series but it is also the first time in the Royal Canadian Mint's history where its customers can spend $200 and get a $200 legal tender coin.
Silver coins sold at face value have become exceptionally popular with their prices, precious metal content and bold designs credited for a swell of new Royal Canadian Mint customers. Coins of a similar class include the Mint's 13 issued $20 for $20 silver coins and 4 issued $100 for $100 silver coins. All but the most recent releases have sold out. Earlier this year, the Mint also introduced its $50 for $50 Polar Bear Silver Coin. Unlike any of these issues, this coin has a much smaller mintage limit of 20,000.
Coin Designs
Created by Canadian artist Ellen Cowie, reverses of the 2014 $200 Towering Forests Silver Coin offer a unique 360-degree design that depicts the splendor of trees and creatures of Canada's boreal forest. Surrounding inscriptions include CANADA, the year 2014, and the coin's legal tender face value of 200 DOLLARS.
Obverses show Susanna Blunt's effigy of Her Majesty Queen Elizabeth II with encircling inscriptions of ELIZABETH II and D.G. REGINA.
Specifications
Coins of the Landscapes of the North series have a metal weight of 62.69 grams, a diameter of 50 millimeters and a serrated edge.
With their 2 ounces of 99.99% fine silver, each has a melt value of $41.86 at today's London silver Fix price of $20.93 an ounce.
Ordering Information and Limits
As of this writing, the 2014 $200 Towering Forests Silver Coin is available only for pre-orders to Royal Canadian Mint Master Club members. These are Mint customers who have spent more than $999.99 CAD in a consecutive 365 days based on the first date of purchase. Ordering should open for everyone shortly, and this article will be updated when that happens.
Coin News Update: The Mint opened ordering for everyone on July 17, 2014.
An affiliate link to the Royal Canadian Mint's product page for the new coin is found here
. Master Club members must be logged in to see it. A household order limit of two coins is in place.