All things aquatic are featured on the Royal Canadian Mint's limited-edition 2015 $200 Coastal Waters Silver Coin, the second issue from its Landscapes of the North series of silver coins that sell at face value.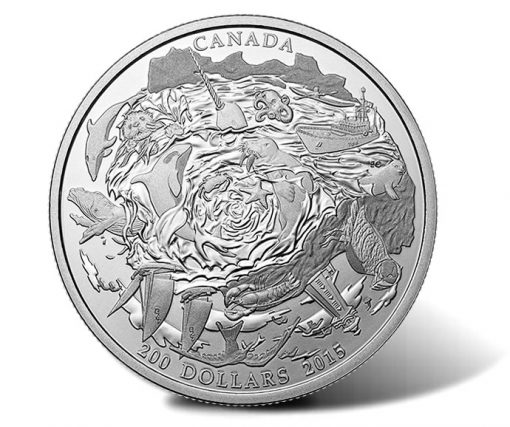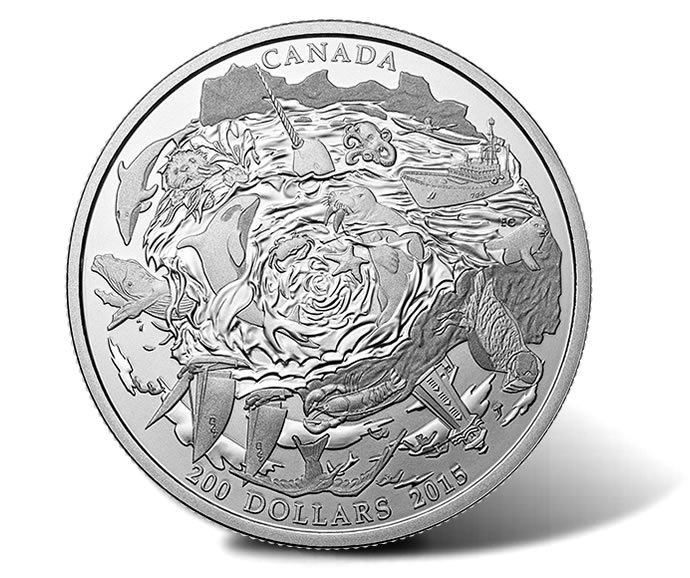 Like last year's 2014 $200 Towering Forests coin which sold out, this coin may be purchased for its legal tender face value and without tax and shipping charges.
Each program issue is composed of two ounces of 99.99% fine silver and has a matte proof finish. Mintage for this coin is limited to 25,000 — up 5,000 from the prior release.
The Royal Canadian Mint has seen exceptional interest in several series of silver coins that sell at their face value. This includes the $20 for $20 program, $50 for 50 program, $100 for $100 program and this $200 for $200 series. Almost all associated issues attain sell-outs in short order.
Coin Designs
Canadian artist Ellen Cowie created the design found on the reverse or tails sides of the 2015 $200 Coastal Waters Silver Coin. It depicts a multitude of water related images in a unique 360-degree design. Inscriptions include CANADA, 200 DOLLARS and 2015.
Obverse offer a portrait of Queen Elizabeth II as created by Susanna Blunt. Inscriptions of ELIZABETH II and D G REGINA circle the effigy.
Specifications and Ordering
As mentioned, each coin is composed in two ounces of .9999 fine silver. This gives it a melt value of $32.26 based on the June 9 London silver price of $16.13 an ounce. Additional specifications include a weight of 63.07 grams, a diameter of 50 mm and a serrated edge.
2015 $200 Coastal Waters Silver Coins are available from the Royal Canadian Mint's website at mint.ca. The following affiliate link goes to the series' product page
. Currently, there is a 2-coin per household limit.