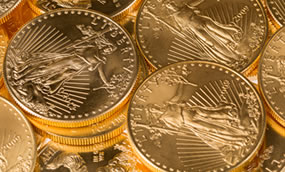 Gold missed a fresh 10-week high on Friday but it gained enough to cement a fourth straight weekly increase. Advancing in seven of the last eight sessions, gold logged a modest pick up of 0.3% for the week.
On Friday, gold for August delivery climbed $3, or 0.2%, to settle at $1,320 an ounce on the Comex division of the New York Mercantile Exchange. Safe-haven demand and a weaker U.S. dollar provided supported, opined analysts.
"There are very mixed views about the economy, which are reflecting on the dollar and thus helping gold," Blake Robben, a senior market strategist at Archer Financial Services in Chicago, said in a telephone interview according to Bloomberg News.
On Wednesday, gold at 1,322.60 an ounce notched the highest settlement price since April 14. The precious metal has rallied $117.70, or 9.8%, since ending 2013 at $1,202.30 an ounce.
Gold Outlook
For the third straight week, most participants in the latest Kitco News survey are bullish for gold. Twenty-five expect prices to rise, 9 see prices lower and 3 see prices trading sideways or are neutral. Kitco News reports that:
"Participants who see higher prices said either technical-chart reasons support gold, or that gold would find support from ongoing concerns regarding a militant uprising in Iraq or heightened tensions between Russia and Ukraine…

Those who see weaker prices said the lack of any physical demand after last week's rally is a bearish sign, plus they added the inability to break above technical-chart resistance above this week's high of $1,326.60 an ounce, basis the August futures, suggests a pullback."
Kitco News gold survey results last week had forecasts of 18 up, 6 down and 2 sideways or are neutral.
Silver, Platinum and Palladium Futures
Silver dipped for a second consecutive session on Friday with September futures down 3 cents, or 0.1%, to $21.13 an ounce. Still, silver prices gained 0.9% on the week and they are up 9.1% for the year-to-date. Like gold, silver also extended its winning streak to four straight weeks. Bloomberg News reports that the weekly rally is the longest since Jan. 17.
In rounding out the precious metals complex on Friday and for the week:
October platinum added $9, or 0.6%, to $1,480.30 an ounce, trading 1.6% higher than a week ago.

Palladium for September delivery rose $7.05, or 0.8%, to $842.85 an ounce, surging 2.5% on the week.
Advances on the year so far total 7.8% for platinum and 17.3% for palladium.
London Fix Precious Metals
London precious metals fixings gained on Friday and for week. When comparing London bullion fix prices from Thursday PM to Friday PM:
Gold rose $5.75, or 0.4%, to $1,317.50 an ounce,
Silver surged 21 cents, or 1%, to $21.04 an ounce,
Platinum added $13, or 0.9%, to $1,479 an ounce, and
Palladium rose $4, or 0.5%, to $839 an ounce
Gains on the week grew to 0.4% for gold, 2% for silver, 1.6% for platinum and 1.2% for palladium.
US Mint Bullion Sales in June
Demand for U.S. Mint bullion products slowed on an ounce-for-ounce basis. Gains this week in gold coins did place month-to-date sales over the prior month. More about that will be covered at the end of the month on Monday. In the latest week-over-week comparisons across all U.S. Mint bullion products:
Gold coin sales advanced 16,500 ounces after rising 19,000 ounces last week. Splits were 13,500 ounces in American Gold Eagles compared to 12,500 ounces previously and 3,000 ounces in American Gold Buffalos after 6,500 ounces previously.

American Silver Eagles added just 447,000 following the past five weekly gains of 580,000; 675,000; 670,000; 300,000; and 426,500. Orders for Silver Eagles have slowed sharply in the last six weeks. Sales are a tad over 23.8 million coins for the year. Last year when the annual American Silver Eagle sales record was set at above 42.6 million, the coins hit 25,043,500 by June 27, 2013. Until a few weeks ago, sales this year were moving faster than last.

America the Beautiful Five Ounce Silver Bullion Coins gained 4,400, or 22,000 ounces, after rising 2,800, or 14,000 ounces last week. Gains were split across the three available designs. Of note, on Monday the U.S. Mint told its authorized purchasers that it had temporarily sold out of Shenandoah silver coins.

Sales of American Platinum Eagles were flat for a second straight week. The coins are now in their 15th full week of release after a five-year hiatus.
Below is a sales breakdown of U.S. Mint bullion products with columns listing the number of bullion coins sold on Friday, last week, this week, last month, the month-to-date, last month, and the year-to-date.
American Eagle and Buffalo Bullion Sales (# of coins)
Friday Sales
Sales Last Week Sales
Week-To-Date Sales
May Sales
June Sales
YTD Sales
$100 American Platinum Eagle Bullion Coins
0
0
0
1,000
700
12,900
$50 American Gold Eagle Bullion Coins
3,000
11,500
12,000
29,000
41,000
196,500
$25 American Gold Eagle Bullion Coins
0
0
0
3,000
0
25,000
$10 American Gold Eagle Bullion Coins
0
2,000
2,000
6,000
4,000
72,000
$5 American Gold Eagle Bullion Coins
10,000
5,000
10,000
35,000
30,000
355,000
$50 American Buffalo Gold Bullion Coins
2,500
6,500
3,000
12,500
15,000
110,500
$1 American Eagle Silver Bullion Coins
67,000
580,000
447,000
3,988,500
2,372,000
23,808,500
Great Smoky Mountains National Park 5 Oz Silver Bullion Coins
0
0
1,000
4,000
2,000
29,000
Shenandoah National Park 5 Oz Silver Bullion Coins
0
0
400
19,500
900
20,000
Arches National Park 5 Oz Silver Bullion Coins
1,000
2,800
3,,000
N/A
19,300
19,300