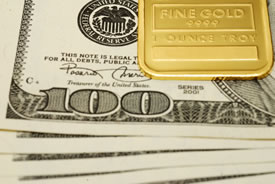 Gold edged lower Friday, extending to a third weekly decline with the latest totaling 0.7%.
Other precious metals also fell Friday and for the week. Weekly losses were 0.2% for silver, 4.3% for platinum and 4.4% for palladium. A stronger U.S. dollar and risk-adverse investment environment were pressuring catalysts.
"It's all related to current risk-off trading," Peter Fertig, the owner of Quantitative Commodity Research Ltd. in Hainburg, Germany, said Friday by phone according to Bloomberg. "There's a firmer U.S. dollar. Precious metals are part of the commodity complex," and can decline when other commodities fall, he said.
Gold for December delivery on Friday shed $1.10, or 0.1%, to settle at $1,711.90 an ounce on the Comex in New York. Intraday prices traded from a low of $1,701.40 to a high of $1,719.90.
Gold Prices Expected Higher Next Week
Gold surveys from a week ago showed cautiousness among precious metals dealers and traders. Many correctly forecasted this week's lower prices. The latest weekly gold surveys are more bullish.
"In the Kitco News Gold Survey, out of 33 participants, 24 responded this week. Of those 24 participants, nine see prices up, while five see prices down, and 10 are neutral or see prices moving sideways," reports Kitco News.

"Those who see prices moving sideways or are neutral on price direction said there's a fair amount of uncertainty still in the markets for next week and that could keep people on the sidelines and prices trapped in a range… Those who see higher prices said the yellow metal is due for a rebound…"
Bloomberg's gold survey was the most bullish in three weeks. Fourteen participants expect higher gold prices next week. Nine were bearish and three neutral.
Silver, Platinum and Palladium Futures
In other New York bullion prices on Friday:
Silver for December delivery settled at $32.036 an ounce, dipping 4.2 cents or 0.1%. Silver traded between $31.60 and $32.38.

Platinum for January delivery declined $22.80, or 1.5%, to $1,546.00 an ounce, ranging from $1,540.90 to $1,579.50.

Palladium for December lost $9.10, or 1.5%, to $595.40 an ounce, trading between $594.50 and $609.15.
For the year-to-date, precious metals gains include gold at 9.3%, silver at 14.8% and platinum at 10.0%. Palladium has fallen 9.3% in 2012.
London Precious Metals Prices
In London, gold advanced slightly while other precious metals declined. When comparing the most recent London PM Fix prices:
Gold added 50 cents to $1,716.00 an ounce,
Silver fell 41.0 cents, or 1.3%, to $31.67 an ounce,
Platinum lost $11.00, or 0.7%, to $1,561.00 an ounce, and
Palladium dipped $1.00, or 0.2%, to $604.00 an ounce
As for the week, losses were 1.2% for gold, 2.0% for silver, 4.4% for platinum and 5.3% for palladium.
U.S. Mint Bullion Coin Sales in October
U.S. Mint bullion sales were a bit weaker for silver and down significantly for gold. Daily advances were contained to a modest two days, which has been a weekly maximum this month but mostly atypical for past weeks in 2012. Still, October will minimally end in the middle of the pack for monthly bullion sales this year. In breaking down the numbers:
Gold coins advanced 10,000 ounces compared to the previous weekly total of 26,000 ounces. Splits were 7,500 ounces in 22-karat American Eagle gold coins and 2,500 ounces of 24-karat American Buffalo gold coins. Gold Eagle sales in October have overtaken the totals from February, April, July and August. Gold Buffalo sales are the highest since March.

Silver coins climbed 602,500 ounces versus the 632,500 ounces from last week. Splits were 567,500 ounces of American Silver Eagles and 35,000 ounces of America the Beautiful 5 Ounce Silver Bullion Coins. ATB sales were led by the newly released Denali bullion coin with buyers ordering 5,500 for 27,500 ounces. Silver Eagle sales in October have surpassed sales in February, March, April and July.
The following table provides the most recent daily, weekly, October and year-to-date bullion sales figures as published by the U.S. Mint.
Sales of US Mint American Eagle and Buffalo Bullion Coins
Daily Sales
Prior Week
Weekly Sales
October Sales
YTD 2012
$50 American Eagle Gold Coins
0
23,000
5,500
44,500
455,000
$25 American Eagle Gold Coins
0
0
1,000
1,000
62,000
$10 American Eagle Gold Coins
0
2,000
2,000
4,000
66,000
$5 American Eagle Gold Coins
0
5,000
10,000
25,000
275,000
$50 American Buffalo Gold Coins
0
2,000
2,500
10,000
106,500
American Eagle Silver Coins
0
608,500
567,500
2,584,000
28,379,000
Sales of America the Beautiful 5 Oz. Silver Bullion Coins
Daily Sales
Prior Week
Weekly Sales
October Sales
All-Time Total
2012 El Yunque National Forest 5 oz. Silver Bullion Coins
0
0
0
0
17,900
2012 Chaco Culture National Historical Park 5 oz. Silver Bullion Coins
0
0
0
1,000
18,200
2012 Acadia National Park 5 oz. Silver Bullion Coins
0
500
0
2,500
20,500
2012 Hawai'i Volcanoes 5 oz. Silver Bullion Coins
0
0
1,500
3,300
13,700
2012 Denali National Park 5 oz. Silver Bullion Coins
0
0
5,500
5,500
5,500
2011 Olympic National Park 5 oz. Silver Bullion Coins
0
0
0
0
85,900
2011 Vicksburg National Military Park 5 oz. Silver Bullion Coins
0
0
0
0
39,500
2011 Chickasaw Park 5 oz. Silver Bullion Coins
0
0
0
0
29,700
TOTAL
0
500
7,000
12,300
230,900
In related U.S. Mint news, weekly sales for other products are published in this coin news article.