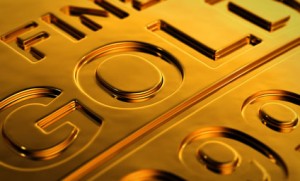 Gold prices advanced in every session this week, scoring a 1.7% gain over last Friday and closing at a fresh three-week high on stronger safe-haven demand.
Gold for August delivery was near flat Friday, adding a dime to end at $1,274.10 an ounce on the Comex division of the New York Mercantile Exchange. The settlement price is the highest since the yellow metal closed at $1,291.70 an ounce on May 23. Gold's year-to-date increase stands at 6%.
"The geopolitical events currently unfolding in Iraq was just the boost that gold needed," MarketWatch quoted Richard Gotterer, managing director and senior financial adviser at Wescott Financial Advisory Group.

"Events that unfold over the weekend may push gold higher or lower," he said. "But investors are going to key in on next week's FOMC meeting."
The monthly Federal Open Market Committee meeting on U.S. monetary policy begins on Tuesday and ends on Wednesday.
Gold Outlook
Majority participants in the latest Kitco News survey are bullish for gold next week. Sixteen participants expect prices to rise, 3 see prices falling and 5 see prices trading sideways or are neutral. Kitco News reports that:
"Those participants who see higher prices said the news out of Iraq, that insurgents seized Mosul, a town near one of Iraq's biggest oil pipelines, underpins gold prices for the time being… Those who see weaker prices next week said gold's strength based on geopolitical factors can be fleeting, especially if events change and the insurgency loses momentum… A few survey participants said they see gold holding in a trading range as the geopolitical news isn't enough to push it above current resistance levels between $1,280 and $1,300…"
Kitco News survey results from last week were bearish with 12 down, 7 up and 3 sideways or are neutral.
Silver, Platinum and Palladium Futures
Silver for July delivery picked up 12 cents, or 0.6%, to close at $19.66 an ounce and notch a 3.5% weekly gain. The precious metal climbed in nine of the last ten sessions to claw its way back into the black this year with prices 1.5% higher than the 2013 closing of $19.37 an ounce.
Platinum and palladium continued to slide, but slower, following their initial plunge when news broke Thursday of a deal between South African mining companies and union officials to end the five-month strike. In their daily and weekly breakdowns:
July platinum slipped $6.30, or 0.4%, to $1,435 an ounce, falling 1.2% from a week ago.

Palladium for September delivery dropped $6.80, or 0.8%, to $812.60 an ounce for a weekly loss of 3.8%. On Wednesday at $860.15 an ounce, palladium notched its highest close since 2001.
Despite the weekly declines, both PGMs remain well higher on the year so far with platinum up 4.5% and palladium up 13.1%.
London Fix Precious Metals
London precious metals moved in the same direction as bullion futures in New York. When comparing London fix prices from Thursday PM to Friday PM:
Gold rose $7.25, or 0.6%, to $1,273 an ounce,
Silver gained 25 cents, or 1.3%, to $19.58 an ounce,
Platinum lost $1, or 0.1%, to $1,437 an ounce, and
Palladium shed $15, or 1.8%, to $816 an ounce
Weekly results followed with gains of 2% for gold and 2.9% for silver and losses of 1.1% for platinum and 2.9% for palladium.
US Mint Bullion Sales in June
U.S. Mint bullion sales improved slightly for silver coins but slowed for gold coins. In the latest week-over-week comparisons across all U.S. Mint bullion products:
Gold coin sales advanced 9,500 ounces after rising 15,000 ounces last week. Splits were 7,500 ounces in American Gold Eagles compared to 11,500 ounces previously and 2,000 ounces in American Gold Buffalos after 3,500 ounces previously.

American Silver Eagles added 675,000 after the past three weekly gains of 670,000; 300,000; and 426,500. Silver Eagle sales have slowed sharply in the last four weeks.

America the Beautiful Five Ounce Silver Bullion Coins gained 14,000, or 70,000 ounces, after rising 1,000, or 5,000 ounces last week. Arches silver coins netted most of the total with their launch on Monday.

In the 13th full week of release following a five-year hiatus, American Platinum Eagles added 200 after gaining 500 previously.
Below is a sales breakdown of U.S. Mint bullion products with columns listing the number of bullion coins sold on Friday, last week, this week and the month so far, last month, and the year-to-date.
American Eagle and Buffalo Bullion Sales (# of coins)
Friday Sales
Sales Last Week
Weekly Sales
May Sales
June Sales
YTD Sales
$100 American Platinum Eagle Bullion Coins
0
500
200
1,000
700
12,900
$50 American Gold Eagle Bullion Coins
0
10,500
7,000
29,000
17,500
173,000
$25 American Gold Eagle Bullion Coins
0
0
0
3,000
0
25,000
$10 American Gold Eagle Bullion Coins
0
0
0
6,000
0
68,000
$5 American Gold Eagle Bullion Coins
0
10,000
5,000
35,000
15,000
340,000
$50 American Buffalo Gold Bullion Coins
0
3,500
2,000
12,500
5,500
101,000
$1 American Eagle Silver Bullion Coins
0
670,000
675,000
3,988,500
1,345,000
22,781,500
Great Smoky Mountains National Park 5 Oz Silver Bullion Coins
0
500
500
4,000
1,000
28,000
Shenandoah National Park 5 Oz Silver Bullion Coins
0
500
0
19,100
500
19,600
Arches National Park 5 Oz Silver Bullion Coins
0
N/A
13,500
N/A
13,500
13,500