The British Virgin Islands ("BVI") Government this week issued a news release warning about a coin targeted at coin dealers and the public purporting to be a commemorative coin of the BVI.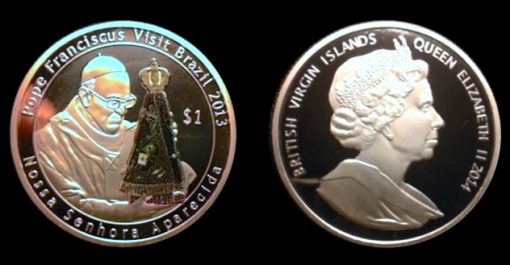 This coin is a fake, the Government of BVI cautions, adding it has never been approved by the Government, the Foreign and Commonwealth Office or Her Majesty the Queen.
As pictured above, the fake BVI coin has a reverse depicting Pope Francis holding a statue of the Blessed Virgin Mary. It is meant to show his visit to Brazil, based on surrounding inscriptions of 'Pope Franciscus', 'Visit Brazil' and '2013'. Below are the words 'Nossa Senhora Aparecida', meaning Our Lady of Aparecida. Our Lady of Aparecida is a 18th-century clay statue of the Blessed Virgin Mary in the traditional form associated with the Immaculate Conception.
The fake coin's obverse has an image of Her Majesty the Queen along with inscriptions of 'British Virgin Islands', 'Queen Elizabeth II and the year '2014'.
"Immediate action is being taken to investigate the perpetrators of this distribution," states the BVI news release.
At the same time, the Government of British Virgin Islands is alerting any potential buyers that the coin is not authorized.