The United States Mint this week published Part II of a four-part series about John F. Kennedy and the half-dollar coins honoring him.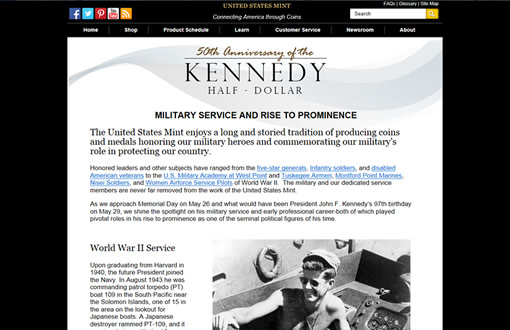 2014 marks the 50th anniversary of the Kennedy half-dollar. The Mint's online retrospective provides some history about the coin and discusses major aspects of Kennedy's life.
Part I, Creating the Kennedy Half-Dollar, was introduced in late April. Part II, entitled the Military Service and Rise to Prominence, offers background on Kennedy's World War II service and his early years in the House of Representatives and Senate.
"As we approach Memorial Day on May 26 and what would have been President John F. Kennedy's 97th birthday on May 29, we shine the spotlight on his military service and early professional career-both of which played pivotal roles in his rise to prominence as one of the seminal political figures of his time," the U.S. Mint describes in the opening of the second-part series.
Later in the year, the U.S. Mint will offer 50th anniversary coin sets with special versions of the half-dollar. Highly anticipated is the release of a unique 24-karat gold Kennedy half-dollar with dual dates of 1964-2014.
Already available from the Mint are standard annual releases to include bags and rolls of 2014 Kennedy halves and uncirculated and proof sets with one or more of the coins in clad or silver. These products are offered online at www.usmint.gov/catalog.