Last week the United States Mint published Part III of its four-part series about John F. Kennedy and the half-dollar coins that honor him.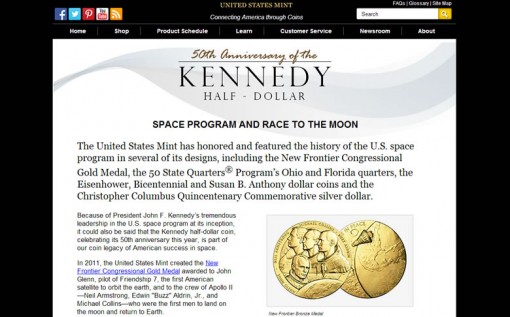 This year marks the 50th anniversary of the release of the 1964 Kennedy half-dollar, so the Mint is providing background about the coin's significance in numismatic history as well as highlighting Kennedy's contributions to his country.
Part I, published in April, covered the creation of the Kennedy half-dollar, and Part II came out in May, describing his military and congressional service. Part III is called, "Space Program and Race to the Moon." It describes Kennedy's role in putting a man on the moon.
"Because of President John F. Kennedy's tremendous leadership in the U.S. space program at its inception, it could also be said that the Kennedy half-dollar coin, celebrating its 50th anniversary this year, is part of our coin legacy of American success in space," the U.S. Mint explains as it begins its third part in the series.
Sale dates for related Kennedy products include a 50th Anniversary Kennedy Half-Dollar Uncirculated Coin Set on July 24 (read about packaging and limits), a 24-karat gold 50th Anniversary Kennedy Half-Dollar Proof Coin coming August 5 (read about pricing), and a 50th Anniversary Kennedy Half-Dollar Silver Coin Collection in the fall.
Already available are bags and rolls of clad, circulating quality 2014-P Kennedy half-dollars from the Denver and Philadelphia facilities, as well as coin sets that have a Kennedy half-dollar in them. Those sets include:
the 2014 United States Mint Proof Set®,
the 2014 United States Mint Silver Proof Set®, and
the 2014 United States Mint Uncirculated Coin Set®.
These above mentioned products are for sale online at www.usmint.gov/catalog and by phone at 1-800-USA-MINT (872-6468).