Physical silver demand soared to a record in 2013, according to the Silver Institute's World Silver Survey 2014, published Wednesday, May 14, 2014.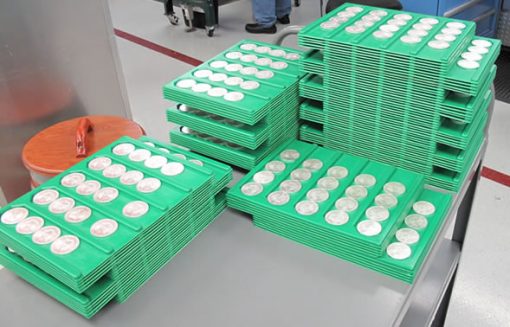 Demand for silver jumped 13.3%, led by a 76.3% increase in retail investment in coins and bars. The report shows 245.6 million ounces of silver coins and bars were needed in 2013 compared to 139.3 million ounces in the prior year.
The World Silver Survey 2014 correlates to sales of one-ounce American Eagle silver bullion coins from the United States Mint. Silver Eagle sales surged to 42.675 million coins in 2013, an annual record. The pace has picked up this year with 20.71 million sold so far, or 666,500 more than the amount moved last year by this time. Sales of the 2014 coins have been rationed since their release on Jan. 13.
Overall, silver demand reached 1,081.1 million ounces in 2013 versus 954.4 million ounces in 2012. Industrial applications continued as the largest component of physical silver, though demand in this category dipped 0.4% to 586.6 million ounces from 589.1 million ounces. Behind the need for coins and bars was silver for jewelry, up 9.6% to 198.8 million ounces from 181.4 million ounces.
Silver mine production increased 3.4% to 819.6 million ounces from 792.3 ounces previously. Mexico led producers, followed by Peru, China, Australia and Russia. Primary silver mining costs stood at $9.27 an ounce last year while the average price of the precious metal was $23.79 an ounce, the third highest nominal average price on record.
The Silver Institute's report on the global silver market has been published annually since 1990. The World Silver Survey for 2014 was independently researched and compiled by the GFMS team at Thomson Reuters. The Silver Institute (www.silverinstitute.org) is a nonprofit organization that was founded in 1971.