A new bullion product from the Perth Mint of Australia debuted this month with the release of the 2014 Australian Saltwater Crocodile Silver Bullion Coin. Each piece is composed of one ounce of 99.9% pure silver.
Featured on the reverse of the new silver coin is the likeness of a large Saltwater Crocodile. This issue marks the fourth line of silver bullion coins issued by the Perth Mint.
"The Perth Mint offers one of the world's most extensive ranges of bullion coins and we're delighted to add the iconic Saltwater Crocodile to our suite of fauna-themed investment pieces," commented Perth Mint Sales and Marketing Director, Ron Currie.
The inaugural strike of the Saltwater Crocodile Silver Bullion Coin shows the many teeth of a single crocodile as the reptile is portrayed with its jaws open. Inscriptions surrounding the image include AUSTRALIAN SALTWATER CROCODILE, 2014, 1 oz SILVER and the Perth Mint's historic 'P' mintmark.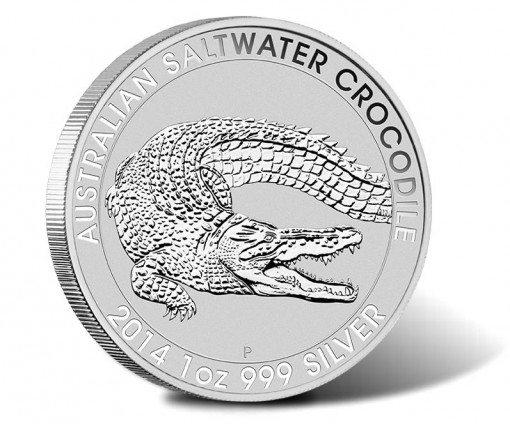 Saltwater crocodiles are the largest of all living reptiles with some examples weighing over to 1,000 kg. Their habitat generally ranges from northern Australia to Southeast Asia and to the eastern coast of India.
Struck as legal tender of Australia under the Australian Currency Act of 1965, Ian Rank-Broadley's effigy of Queen Elizabeth II graces the obverse of each release. Obverse inscriptions include ELIZABETH II, AUSTRALIA, and the face value of 1 DOLLAR.
The coins ship worldwide from the Perth in 25-coin protective tubes. A Perth Mint's tamper evident security seal is applied to each tube. Maximum mintage for the coin is limited to 1,000,000.
Other silver bullion products from the Perth Mint include the Australian Kookaburra Silver Coin Series, the Australian Lunar Silver Coin Series II and the Australian Koala Silver Coin Series. Those series were joined in April by the Great White Shark Silver Bullion Coin. This shark coin is composed of 1/2 ounce of 99.9% pure silver and features a maximum mintage of 300,000.
Bullion coins from the Mint have proven popular with collectors and investors thanks to their silver purity and their annually changing reverses.