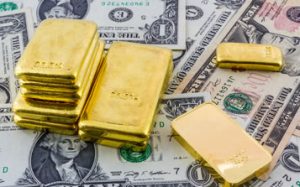 Gold closed lower on Friday and for the week, snapping a streak of five weekly increases, but it still notched a solid 3.1% gain in January — its first monthly pick-up since August.
In bullion coin news, demand surged to multi-month highs for U.S. Mint American Eagle and American Buffalo products. More on that later…
In returning to precious metals, gold for April delivery shed $2.70, or 0.2%, to settle at $1,239.80 an ounce on the Comex division of the New York Mercantile Exchange. It dropped 1.9% on the week. For the month, gold tended to move opposite of equities and the U.S. dollar.
That the rotation back to precious metals from equities has lost momentum is "partially due to month-end profit taking and also because of a modestly stronger U.S. dollar today with taper progressing after FOMC statement," MarketWatch relayed and quoted Jeffrey Wright, managing director at H.C. Wainwright.
U.S. stocks were pounded in January with the S&P 500 down 3.6%, the Dow off 5.3% and the Nasdaq down 1.7%.
Gold Outlook
Most participants in Kitco News' gold survey were bullish last week. Until then, the majority had accurately predicted gains in gold since missing the first of five weekly gains that began toward the end of December. Despite losses this week, participants remain bullish overall in the latest Kitco survey.
"In the Kitco News Gold Survey, out of 33 participants, 21 responded this week. Eleven see prices up, while seven see prices down and three see prices trading sideways or are neutral," reports Kitco.

"Participants who see higher prices said the near-term technical chart trend remains supportive, especially as equity prices weaken.

Another said the market is handling the Federal Reserve's tapering of quantitative easing well."
Silver, Platinum and Palladium Futures
Silver prices closed lower for a second straight week, down 3.3%, after advancing in the four prior weeks. On Friday, silver was nearly unchanged with the contract for March delivery down about a half penny to $19.12 an ounce. In January, silver shed 25 cents, or 1.3%.
In PGM futures on Friday:
April platinum declined $6.60, or 0.5%, to end at $1,375.70 an ounce.

Palladium for March delivery fell $3.65, or 0.5%, to finish at $703.20 an ounce.
Platinum inched up 0.1% in January but declined 3.7% for the week. Palladium lost 2.1% since the end of December and tumbled 4.3% on the week.
London Fix Precious Metals
London precious metals fixings split on Friday and in January. All declined on the week. When comparing the London fix prices from Thursday PM to Friday PM:
Gold added $8.50, or 0.7%, to $1,251 an ounce,
Silver declined 10 cents, or 0.5%, to $19.31 an ounce,
Platinum lost $6, or 0.4%, to $1,382 an ounce, and
Palladium shed $6, or 0.8%, to $707 an ounce
For the week, losses stacked to 1.3% for gold, 4.4% for silver, 4.2% for platinum and 5.1% for palladium. In January, gold advanced 4.1% and platinum gained 1.8% while silver fell 1% and palladium dipped 0.6%.
US Mint Bullion Sales in January
January U.S. Mint bullion coin sales soared from December but paled against the tallies from a year ago. January tends to be an exceptionally strong month for the U.S. Mint with releases of newly dated coins. In major comparisons:
American Eagle gold coins surged to 91,500 ounces in January to the highest point since April. With newly dated 2014 Gold Eagles released on Jan. 2, sales jumped 63.3% from December. However, they dropped 39% from a year ago.

2014 American Eagle silver coins launched in an allocated basis on Jan. 13. Though sales were rationed, buyers still snapped up 4,755,000 Silver Eagles, the highest in a year. The mark is 297.9% more than December but down 36.3% from January 2013 when the all-time monthly Silver Eagle sales record was hit.

American Buffalo gold coins ran up 41,500 in January, also the highest in a year. The new 2014-dated coins debuted alongside the 2014 Gold Eagles on Jan. 2. January sales soared 492.9% from December but fell 42.8% from a year ago.
Below is a sales breakdown across all United States Mint bullion products with columns offering the number of bullion coins sold this week, last week, in January 2014, December 2013 and in January 2013.
American Eagle and Buffalo Bullion Sales (# of coins)
Friday Sales
Sales This Week
Sales Last Week
January 2014 Sales
December 2013 Sales
January 2013 Sales
$50 American Eagle Gold Coins
0
1,000
5,000
62,500
53,500
124,500
$25 American Eagle Gold Coins
0
0
2,000
12,000
0
8,500
$10 American Eagle Gold Coins
0
0
0
28,000
4,000
6,000
$5 American Eagle Gold Coins
0
10,000
0
160,000
15,000
11,000
$50 American Buffalo Gold Coins
2,000
2,000
0
41,500
7,000
72,500
American Eagle Silver Coins
0
741,000
550,000
4,755,000
1,200,000
7,498,000
CoinNews.net will offer a more detailed bullion coin sales analysis on Monday.