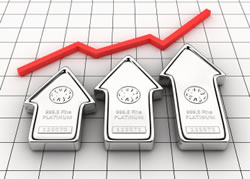 Gold edged 0.2% higher Monday, extending its streak of wins to four sessions. It was silver and platinum stealing the news headlines, however, with their respective increases of 2.1% and 1.7%.
Gold for December delivery settled up $3.60 to $1,623.00 an ounce. The settlement was the highest price for gold since June 30. Prices ranged from an intraday low of $1,611.80 to a high of $1,624.50.
"Platinum aside, the precious metals remain rudderless ahead of Wednesday's Fed minutes and the raft of euro meetings due later this week," MarketWatch quoted Adrian Ash, head of research at BullionVault.

"But next Monday marks a long weekend in London, and the end of the summer holidays," he said. "That typically marks the end of gold's summer doldrums too."
In other major New York precious metals futures:
Silver for December delivery rallied 59.1 cents to $28.593 an ounce. Silver traded between $27.875 and $28.735.

Platinum rose for a third day and to its highest price since May amid concerns of violence at a mine in South Africa, opined analysts. Platinum prices for October delivery jumped $25.10 to $1,498.20 an ounce, ranging from $1,461.00 to $1,498.60.

Palladium for September delivery gained $2.60, or 0.4%, to $607.70 an ounce, trading between $597.00 and $609.80.
Last week, gold and silver each fell 0.2% while platinum and palladium logged respective gains of 5.2% and 3.9%.
London Precious Metals
London precious metals were mixed with all but silver advancing. In contrasting London PM Fix prices:
Gold rose a modest 25.0 cents to $1,615.00 an ounce,
Silver slipped 10.0 cents, or 0.4%, to $28.21 an ounce,
Platinum added $7.00, or 0.5%, to $1,462.00 an ounce, and
Palladium gained $6.00, or 1.0%, to $598.00 an ounce
Last week in London, gold dipped 0.2% while other precious metals advanced with increases of 1.1% for silver, 4.0% for platinum and 2.4% for palladium.
Sales of U.S. Mint Bullion Coins
The week started strong for the U.S. Mint and its bullion coins. Sales advanced for each of its major bullion products, with gains in one ounce and five ounce coins exceptionally strong. In summary:
8,000 ounces of gold bullion coins were sold Monday. That more than doubles last week's five-day total of 3,000 ounces. Sales of six thousand ounces came from various sizes of American Gold Eagles — the one-half ounce Eagle rose for the first time this month. The remaining 2,000 ounces were for the American Gold Buffalo.

463,500 ounces of silver bullion coins were sold Monday, which is 69.2% of last week's entire total. American Silver Eagles climbed 437,500. Sales jumped by 5,200 for America the Beautiful 5 Ounce Silver Coins — the best one-day total since the Acadia coin launched in late July.
The most recent daily, August and year-to-date sales for U.S. Mint bullion products follow.
Sales of US Mint American Eagle and Buffalo Bullion Coins
Daily Gains
August Gains
YTD 2012
$50 American Gold Eagle Coins
5,000
16,500
330,000
$25 American Gold Eagle Coins
1,000
1,000
57,000
$10 American Gold Eagle Coins
0
0
54,000
$5 American Gold Eagle Coins
5,000
10,000
200,000
$50 American Buffalo Gold Coins
2,000
5,500
84,500
American Silver Eagle Coins
437,500
2,021,000
21,691,000
Sales of America the Beautiful 5 Oz. Silver Bullion Coins
Daily Gains
August Gains
All-Time Total
2012 El Yunque National Forest 5 oz. Silver Coins
100
600
13,800
2012 Chaco Culture National Historical Park 5 oz. Silver Coins
500
1,100
8,500
2012 Acadia National Park 5 oz. Silver Coins
4,100
5,200
15,100
2011 Olympic National Park 5 oz. Silver Coins
300
300
85,800
2011 Vicksburg National Military Park 5 oz. Silver Coins
100
100
39,200
2011 Chickasaw Park 5 oz. Silver Coins
100
100
29,500
TOTAL
5,200
7,400
191,900
All U.S. Mint bullion sales above are in coin totals, not in amount of ounces sold.